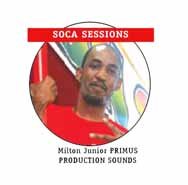 Now that the 2018 Carnival season has ended in Trinidad and Tobago, life may be returning to normal for most of us.
But for many Soca artistes and international Djs such as myself, we know that spreading the love of carnival and Soca music has only just begun.
So we prepare for the many carnivals to come here in North America and beyond.
Here is the final follow-up of the 2018 Trinidad carnival:
Congratulations to the new International Soca Monarch – Aaron "Voice" St. Louis. He sang "Year For Love" and topped the field on Fantastic Friday night. It's a 3-peat for Voice as it is the third year that he has won International Soca Monarch.
Results:
1st Place – Aaron "Voice" St. Louis
2nd Place – Dexter "Blaxx" Stewart
3rd Place – Orlando Octave
4th Place – Trevon Turner
Voice also entered the Calypso Monarch competition where he attempted to dethrone Chalkdust at the Dimanche Gras show.
But there is a new Calypso Monarch in town and his name is Helon Francis. Francis was announced the winner of the Calypso Monarch competition in the early hours of Carnival Monday morning. Francis wowed the judges with his song 'Change' which calls for us to be the change we want to see.
Results: Helon Francis (442 pts)
2nd – Voice (433)
3rd – Rondell Donawa (427)
Road March winners
Congratulations to Machel Montano on his ninth title and Superblue on his 10th Road March title. They easily won Road March 2018 with their hit, Soca Kingdom.
Results: Soca Kingdom "Machel Montano & Superblue" – 336 times
2. Savannah "Iwer George" – 140 times
3. Sweet For Days "Patrice Roberts" – 112 times.
Island Facts
Mar 2nd 1972 – Michael Manley becomes the fourth Prime Minister of Jamaica.
Production Sounds Chart
1 Top Striker – Lil Natty & Thunda
2 Doh Play Dat – Machel Montano
3 Soca Kingdom – Machel Montano x Superblue
4 Hello – Kes
5 Yabba Dabba Doo -Vybz Kartel
6 Fling Yuh Shoulda – Ding Dong
7 Year Of Love – Voice
8 Splinters – Shal Marshall
9 Hulk – Blaxx
10 Savannah – Iwer
Be free to send your feedback on any of my articles to  Productionsounds@gmail.com or Instagram: @Productionjr