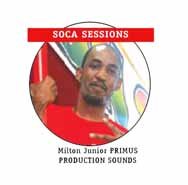 In a time when the Montreal Reggae/Dancehall scene seems to be at a stagnant position, it's essential to give credit where credit is due.  In this small community there's a lot of genuine and hard working people who need support and positive reinforcements, I think it's important take this moment to recognize the local artist, Djs and promoters in Montreal and hope they continue to keep the scene alive. That  being said, in this issue I have decided to feature a local Dj  known far and wide as James Bond.
If you have a conversation with anyone about the reggae business and I  bet the word "HATERS" pop in five minutes.
Haters are people who think they know the route to success, but they never actually get in the car to drive themselves there.
I believe hate is often a sign of weakness, envy and fear.
Haters hate on you because you're doing what they cannot, will not or are too afraid to attempt.
When you're new, there will be critics, when you're good there will be haters and when you're excellent they will turn into admirers.  Admirers…something Dj James Bond has in abundance.
Canadian born James Kornecook got the nickname "James Bond" from his peers during his younger days. Becoming a Dj was something he didn't set out to be but it just happened.
James says he started buying records in 1978 because of the difficulty to find Reggae tapes and he kept buying until cds took over, and later converted to mp3s and now using serato on his laptop to spin music.
The transition to becoming a professional deejay wasn't so easy. In the early days, he played at a lot of house parties until around 1993 when he graduated from McGill University and the calls started receiving calls from people wanting him to nice up their parties. Only then he started to take deejaying seriously.
James Bond became a part of a Montreal-based sound system called Virgin 1999. Which only lasted a few years before they fell apart.
He went on his own around 2003, around the same time he started the weekly radio show "Reggae Jams" on K 103.7FM.
Reggae Jams is a three-hour  (9:00 to midnight) show, he explores some of the latest reggae hits as well as classics from as far back as the 1970s.
Reggae Jams play an important role in our Reggae community allowing music lovers of all backgrounds to stay up to date with the music.
I asked James Bond "do you experience lots of stereotypes being that you are a white reggae Dj in this Caribbean community?"
His reply was: "its no longer an issue. Maybe in the beginning but now everyone knows how talented and educated I am when its comes to Reggae / Dancehall music. Outside Djs who don't really know me tend to quickly profile me during a clash. It works to my benefit as they underestimate me and I retaliate musically with the right dubs."
And he lets it be known that: "James Bond is one Dj that doesn't back down from a serious clash."
At the "No Retreat No Surrender" Sound-Clash last November 28, with Toronto Sound "Royalty Sounds" he easily emerged champion.
Then at "The Harder They Come The Harder The Fall" Sound-Clash in Ottawa with resident sound system Nebula Sounds on April 2, he brought the trophy to Montreal.
James Bond has proven himself as a force to be reckoned and deserves to be recognized.
Island Facts:- May 3, 1494 – Columbus discovers Jamaica, Jamaica discovered by    Columbus; he names it "St Iago"    –
Be free to send your feedback on any of my articles to  Productionsounds@gmail.com or Instagram: @Productionjr
Production Sounds Chart  
1 Champion -Dwayne "DJ" Bravo
2 Cheer of Life – Voice
3 Bon Mon Ami – Angela Hunte
4 Oh Yah (remix) – Olatunji & Runtown
5 Bruck Off Yuh Back- Konshens
6 People – Kes
7 Leh We Fete – Ricki Jai
8 Same Gyal wice – KI
9 Champion Boy – Alkaline
10 Carnival Groupie – Machel Montano