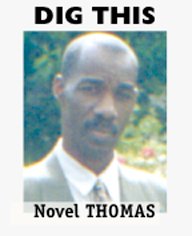 Several years ago the name Barack Obama came to prominence, becoming a daily staple in the media.
Dubbed a "community organizer" the name, unusual as far as names go, and unconventional as it may have sounded back then, took some time to register on (some) people's psyche. Some thinking that it may have been some kind of moniker to disguise the true identity of the real person.
But the world soon became familiar and accustomed to the name and face association, not just with the moniker community organizer, but especially because he was sociable and easily connected with people, among other personal qualities. And as time progressed, people began to see the person under the skin and realized that he was a man on a mission just going about his stated 'community organizing' work in a hurry, making a difference in the lives of those he came in contact on the South Side (of Chicago…).
He was no Bad, bad, Leroy Brown (a la Jim Croce), but as he ingratiated himself to the people in his capacity as a community organizer, the executive director of the Developing Communities Project (DCP) in the Roseland neighbourhood of Chicago, the personality with the unusual (un-American?) name was having an impact, the effects of his efforts having tangible results in and around the community (essentially having visible tangible results, not just physically, but tangibly. effects) taking root in people's psyche, much like Jim Croce's infamous Leroy.
As some people would say at the time, "Barack who, what…?"
The name took a little getting used to, but over time, people not only became accustomed to it, but also gradually came to the realization that the man with "the funny name?" was on a mission. In working with, or "serving them in different capacities" as he would sometimes say to media, rumours soon emerged that he was also on a mission, carving out a path into politics as an Illinois Senator in 1996.
Community organizer? In retrospect, he was just getting started; bigger things were yet to come.
To illustrate the value he ascribed to, and the satisfaction he derived from, his community involvement at the time, the former president recalls in various interviews and impromptu conversations that, "The years 1985-1988 he spent working as a community organizer on the South Side were "the best education I ever had…"
The rest, as the saying goes, is history.
So, what does a name have to do with it? Go on and ask erstwhile social activist Balarama Holness (his Holiness… if you will?)
Much like Barack Obama, the name lends to slight humour, and in addition is a viable/good/appropriate/opportune conversation starter. Just because it's different, uncommon…
But Balarama Holness is by no stretch neither comedian nor other entertainer, just a serious Montrealer on a personal mission: to become the next mayor of the city of Montreal, a position/vocation/mission his years of activism has been preparing him for should he be the chosen, the elected one come election day,.
That much we've gathered over the years, having seen him on multiple occasions on local and occasional national news in various venues in and around Montreal.
Much like Barack Obama, his name naturally lends to conversation and perhaps light humour, just because it's different, and uncommon.
But all of that belie his social activism people living in and around Montreal have come to know. Most of us have surely seen him over the years (at work); he's a man on a mission.
In this era of multiple sources of unbridled information to satisfy all interests, there're reams of information — print and electronic alike — that speak to the nature and character of Balarama Holness.
Under his Mouvement Montreal party banner (which recently merged with an upstart political party, Ralliement pour Montréal, founded by Marc-Antoine Desjardins, Holness is hoping the political duo will do some serious political damage to the other two parties, former Montreal mayor, Denis Coderre's Équipe Denis Coderre, and incumbent Mayor Valérie Plante's Project Montréal parties.
While Balarama Holness' political party name is fresh, the Holness name is familiar, fresh, and always resonates in the city's social activist, political and judicial circles.
Under his Mouvement Montreal political banner, his personal life's, ideology and political party mission are intertwined, unchangeable, merged and remain the same: bringing about lasting social change… especially for the vulnerable and profoundly impacted in and around Montreal.
Homelessness, the contentious and undeniable issue of systemic racism (or racism period), homelessness, varying degrees of poverty… the usual social issues that perennially impact certain segments of Montreal's vast population.
Voluminous amounts of pertinent material available online for readers' perusal.
And Montrealers population have been put on notice that the perennial issue of language will be front and center in the election campaign.
How will I vote you ask? Well last time I made an X, or was it an O for Valerie Plante, just because I was a change to have a woman in the mix. Too many men too often; change is good.
This time? Well, change is always good, and people are clamouring, starving… for another kind of change. All votes are equal, and all votes matter. So…
Which is why Balarama Holness opted to wholly embrace his activism trajectory and officially announced on May 20 that he was running for mayor of Montreal by throwing his hat in the political ring for the title of mayor of Montreal in the Sunday, November 7, municipal election.