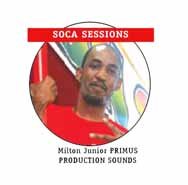 It's never too late to pay respect and show your appreciation for someone's contribution to Calypso/Soca. Tobago-born Calypsonian Yafeu Osei, better known as Rootsman passed away on Friday, August 21, at his Morvant home from complications associated with diabetes. He was 64.
Best known for his songwriting and melodic capabilities and Soca party hits like "Rock Me", "Miami Vibes", "Soca in the Palace, "and "Parkway.
His calypso career began in the late 1970s and he was regarded as a melody specialist blessed with one of the sweetest voices in the business and was honoured in Orlando, Florida, and recently in Hamilton, Ontario, for his contribution to the  art form.
After joining the elite Soca station TeamSoca.com many doors have been opening up for me. My most recent achievement and adventure was being booked to Dj at an event during New York Labor Day Carnival; it was my first time.
My initial thoughts of New York Carnival were based on what the news and Social media portrayed as very violent, unorganized, etc. I was booked for an event entitled "I AM SOCA" in Brooklyn, September 5th, and trust me the party scene in New York is not only bigger, but also mature.
Partygoers know all the new Soca most definitely, but appreciate the oldies… honourably.
New York City Labor Day weekend is the Caribbean Carnival and Parade, sometimes referred to as the West Indian American Day Carnival Parade.
It was said in the news that nearly 2 million spectators attended this year. After all, who doesn't want to spend a holiday weekend watching brilliantly costumed dancers step down E
astern Parkway, listening to calypso and reggae and sampling roti and ackee fish?
The Carnival Parade, which started at 11 a.m. Monday September 7th in Brooklyn, at Eastern Parkway and Schenectady Avenue, goes along Eastern Parkway before ending roughly at 6 p.m. at Grand Army Plaza, by Prospect Park.
Being my first time, I will say New York is definitely my best and most secure Carnival experience in North America. The vibes, costumes, people, music were on point. Up next is Miami in October and it's important to truly live life and experience each and every moment in its simplicity.
Island Facts
Sept 19th 1983—The twin island nation of Saint Kitts and Nevis gains independence from the UK.
 Sept 25th 1970 – The first scheduled flight of a Pan Am Jumbo Jet; arrives in Jamaica marking the beginning of a new age in Tourism.
 
Be free to send your feedback on any of my articles to
Productionsounds@gmail.com or Twitter: @Productionjr
Production Sounds Chart
1 Bang Bang – Olatunji
2 Shell Down – Cloud 5
3 Trap Queen – Fetty Wap
4 All Ah We – Peter Ram
5 Way Up Stay Up – Chi Ching Ching ft. Popcaan
6 Puppy Tail – Demarco
7 Sugar Rush – Hypa Sounds
8 Dah Ain Bad – Porgie & Murda
9 Dutty – Hypa 4000
10 Like It – Faith Antoine