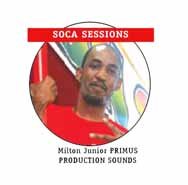 Fireman Hooper and Daddy Ghost will heat up the place
Of all the colors, Red stands out as arguably the most used and the most dominant:
That's why I strongly believe that everyone has a Touch Of Red in them.
No wonder there is so much anticipation over, Touch Of Red 2 event which some expects to be one of the best fetes in Montreal for 2014.
They say so not only because of the great line-up of artists and DJs but because the event comes at a time when there is a massive craving for Soca music.
Either way, the wait is almost over, as the Touch Of Red 2 event happens on Saturday, November 8.
Both Fireman Hooper and Daddy Ghost are considered kings in their own right, and will be performing after a few years absence from the Montreal stage.
Delroy "Fireman" Hooper, out of Saint Vincent and the Grenadines, the 2014 Soca Monarch (Ragga and Power Soca), and Road March King, hasn't performed in Montreal for three years; his performance on here overdue.
Also, it has been a few years since Montreal's 4-time Soca Monarch champion, Daddy Ghost, (Steve Victory) took the stage in his own town.
Since the cancellation of Montreal's Soca Monarch many of local artists have become stagnant but Daddy Ghost, still produces Soca music, especially for Vincy carnival.
Also at the Touch Of Red 2 will be Montreal's top three Soca DJs – Production Sounds from CKUT 90.3fm, Energy Squad from Boom Station and Jackpot Jugglaz, Montreal's new Vincy sensation.
Everyone should wear something red that night!
Island Facts:
– Nov. 17, 1976 – Cindy Breakspeare, Jamaican Beauty Queen, was crowned Miss World.
Production Sounds Chart
01. Ducking – Fadda Fox
02. Vagabond – Ricardo Drue
03. Ah Feeling – Lead Pipe & Saddis
04. Rum Meeting – Fireman Hooper
05. Dutti – Hypa Sounds
06. Benup – Porgie and Murda
07. We Nah Change/Who Drinking Rum – Lavaman /King Bubba FM
08. We Have It – Lyrikal & Problem Child
09. Quink it – Daddy Ghost
10. Carnival Addiction – Lead Pipe
Be free to send your feedback on any of my articles to Productionsounds@gmail.com or Twitter: @Productionjr