TELLING IT LIKE IT IS
The thing abou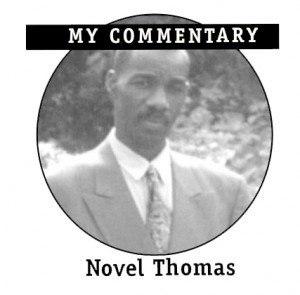 t political life is that among many other things politicians have to measure their words (the things that they say, publicly) for fear of mis-speaking. Plainly put, they have to adhere to their [political] party's agenda and ideology by spinning political talking points if their objective is to have and enjoy a long political life.
So, like all politicians, "staying on point" has been the trademark of President Barack Obama since his ascension to the most powerful political office in the world in 2008, which is why he was rewarded with a second term as U.S. president in 2012.
But there comes a point when "playing the political game" is no longer necessary, when the reality of speaking truth can no longer be repressed, especially if one has nothing to lose or gain politically. President Barack Obama is at that juncture in his storied political life and, as the last seven or so months of his political journey runs out.  I bet he can't wait for inauguration day 2016 when someone else wit presidential ambitions takes the Oath of Office.
Truth was apparent on Friday, June 26, when the President delivered a powerful eulogy (some describe it as nothing less than a "sermon for the ages") at the "going home" celebration of the life of Rev. Clementa Pinckney, Pastor of the Emanuel AME Church in Charleston, South Carolina, and, by all reports, a "well-respected and beloved state senator, one of the nine victims of that racially-motivated massacre perpetrated by Dylann Roof, that 21-year-old disciple and adherent of Ku Klux Klan racist ideology on June 17.
The source of his angst, racism and hatred of Black people were well-documented in his manifesto of hate, deeply-rooted in South Carolina, and that Confederate battle flag, with divergent historical meaning to Black people and (some) white folk, the subject of discussion for generations. Wiser minds, including the state governor's, have prevailed.
An impatient, brave Black woman who knows her history scaled the flagpole and brought the flag down. This is 2015, a new era and new breed of Black people who stopped "turning the cheek."
The history of Slavery and race in America and their remnants, as well as their negative impact on Black Americans were, among other salient matters, addressed in President Obama's eulogy. What the hell, no longer constrained by any extension of his political life he was finally speaking truth, ripping off the scab of America's racist history into 2015 and its continuing negative impact on Black people—visible signs of "Black progress" notwithstanding—no doubt much to the chagrin of many white Americans, guardians of the status quo, and some Black Republicans, such as Larry Elder, a Black man with nothing positive to say about "his people." They've arrived.
President Barack Obama, politician, has no other political office to run for, so his tongue was loose as his mind released bridled American historical truths that day at the AME Church down there in Charleston, South Carolina.
Many people I know saw the President's eulogy and were talking about it; if you didn't hear or watch it, then it's readily available Online. Check it out for context.
But we're talking about America after all, where any talk of its history of race is grist for rancorous conversation, and more…
No sooner did the last words of President Obama's eulogy for former Reverend and State Senator Clementa Pinckney rolled off his tongue before a spate of church fires of questionable origin broke out at several churches in 4 southern states. As of June 21 to July 1 there has been 6 church burnings in 4 southern states (maybe more now). Dylann Roof's plan to trigger a race war wasn't realized, but the terrorizing of Black people through church burnings was well underway. It was akin to a revisit of the past when Black churches were ready targets of America's racial haters. Perhaps those actions are other attempts revisit the past by intimidating, terrorizing and silencing the traditional spiritual leaders and voices of America's Black congregations—black sheep so to speak.
Perhaps the church burnings are a demonstration by some of Dylann Roof's fellow racist, terrorist foot soldiers, (in solidarity) to show that although he's now confined, they won't be bullied, hence the clearly racially-motivated church burnings—perpetrated by nefarious people and their sinister deeds—operating in the shadows, under the cover of darkness and anonymity, under the cover of darkness—if you will. Cowards… demonstrating that they won't allow the killings of nine niggers, along with (or buoyed by) the outright, manifest solidarity of a bunch of bleeding heart "nigger lovers" to get in the way of their beliefs and seemingly lives' mission.
The headline reads, 'Black Churches Are Burning Again in America.' And it tells the stories of several church incidents of church burnings since President Barack Obama eulogized the good reverend. Hateful acts? Maybe.
The story starts, "This week, there were fires in at least six predominantly African-American churches. Arson at religious institutions has decreased significantly over the past two decades, but the symbolism remains haunting…"
Another story goes, Jeanette Dudley, the associate pastor of God's Power Church of Christ in Macon, Georgia, said she got a call a little after 5 a.m. on Wednesday, June 24…Her tiny church of about a dozen members had been burned, probably beyond repair.
Another states, […] The very same night, many miles away in North Carolina, another church burned: Briar Creek Road Baptist Church, was set on fire some time around 1 a.m. Investigators have ruled it an act of arson…
Mount Zion African Methodist Episcopal Church in Greeleyville, South Carolina, burned; Glover Grove Missionary Baptist Church in Warrenville, South Carolina, (caught fire?); College Hill Seventh Day Adventist in Knoxville, Tennessee, burned… Fruitland Presbyterian Church in Gibson County, Tennessee, and the Greater Miracle Temple Apostolic Holiness Church both in Tallahassee, Florida, burned… God's Power Church of Christ in Macon, Georgia, burned.
"These fires join the murder of nine people at Charleston's Emanuel African Methodist Episcopal Church as major acts of violence perpetrated against predominantly black churches…" a report states.
In one fire at the Greater Miracle Apostolic Church in Tallahassee, Fl., fire officials concluded that incident was "likely caused when a tree limb fell on power lines, exposing electrical wires…" But given the spate of church fires in that short period of time, fuelled by racial undercurrents, that reasoning will be met with a healthy dose of skepticism by the impacted Black congregations across in the southern states in question.
But these are not the cone head days when Black people were intimidated, terrorized and silenced; this is 2015. Black people have come too far to shut up, back down, or turn back. President Obama laid it out in his eulogy.
And while this continuing story is about America's historical burden, slavery and its perpetual vestiges and social ramifications, bear in mind that America's Canadian cousins must not become too self-righteous. The various fruits of history do not fall far from the tree. Read Bryan Bishop's contextual take in this issue!
Be aware; be vigilant.