Wilton "Jun Jun" Geoffrey Moore Jr
Sunrise: October 21, 1951 – Sunset: August 16, 2022
It is with immense grief and sadness that we announce the sudden passing of Wilton "Jun Jun" Geoffrey Moore Jr., at 6:05 AM on August 16, 2022, peacefully in his sleep at the Royal Victoria Hospital in Montreal.
Our very much adored husband, father, brother, uncle, grandfather, friend, skilled and meticulous craftsman, and mentor to many around him, went to be with his Maker, the Lord Jesus Christ. He was 70 years old.
Left behind to mourn is his dear wife Jennifer Louisa, his beloved children – Tara Christina, Kimberley-Anne, Christian and Karsten; grandchildren – Darius Cruz, Avalon Lucia, and Kaleeah Lily; his cherished siblings – Maudlyn Loiseaux, Joyce, Deborah, Oswin, Karen, Dwight, Voy, and Wendell; Sisters and Brothers-in-law, a host of nieces, nephews, cousins, friends, colleagues and many schoolmates back home in many of the Caribbean Islands.
Our profound gratitude and appreciation to both the Internal Medicine Team and the Palliative Care Team along with the staff members, nurses and patient care attendants who worked around the clock for continued care and support while at the Glen Site.
The receiving of condolences and visitation will be held at the Voluntas
Commemoration Funeral Home, 4695 Blvd. Saint Jean, Dollard-Des-Ormeaux, QC H9H 2A7, on Sunday August 28th 2022, and Monday August 29th 2022, from 4:00 PM – 9:00 PM.
Final viewing on Tuesday August 30th 2022, at 10:30 AM at Evangel Pentecostal Church, 1235 Lambert-Closse, Montreal, QC H3H 1Z4, followed with a Celebration of Life Service at 11:00 AM.
We would like to express our thanks to the Voluntas Funeral Home and Evangel Pentecostal Church team for their support and assistance during our time of grief.
In lieu of flowers, donations can be made to the Montreal Community Contact, 5726 Sherbrooke St. W, Montreal, Quebec H4A 1W8, comtact@bellnet.ca.
~Family of the Late Wilton "Jun Jun" Geoffrey Moore Jr.
Winnifred Lewars
Lester (Mama)
In loving memory of our beloved mother
Winnifred Lewars Lester (Mama) who passed away August 30, 2016, six years ago.
Precious memories last forever,
Deeply in our hearts,
Forever love, and
forever missed.
Continue to rest in God's arm.
Remembered by your children, grandchildren, great grandchildren, lots of family, friends and loved ones.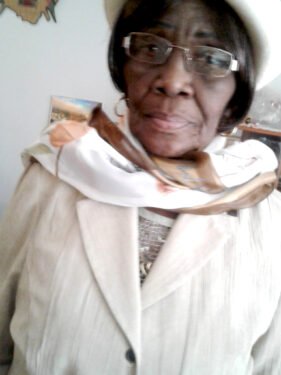 Estina Magdalene Daisey
1931-2022
It is with deep sadness that our family announces the passing away of our beloved mother, Estina Magdalene Daisey, on Saturday, July 30, 2022, at the Father Dowd Memorial Home, Montreal.
She was born on February 28, 1931, in Ashton Union Island, in St. Vincent and the Grenadines.
Estina came to live in Montreal on August 1, 2009, after working at the St. Vincent Banana Association and at the St. Vincent Philatelic Services.
She had three four children: Brian, (who predeceased his mother in 2019), Kenneth (New York), Cornelius (Brooks) (New York) and Pamela.
She is also survived by her grandchildren: Kenita, Shanicia, Levor and Levelle in USA, as well as many nephews and nieces and grand-nieces and grand-nephews.
Pamela is surrounded by close friends in Montreal which include, Margot A. Blackman, Merle Gravesande, Sameta Ramsay, Julie Greenridge, Agnes Faustin, Glenda Cadogan, Aicha Diop, Zufran Mehari, Angela Nicholas, Jean Charles, Etalemahu Abate, and Natalie Williams, her only niece in Montreal.
The family would like to thank the doctors and the nurses of Father Dowd Memorial Home, the Jewish General Hospital and Dr. Chang, of the Notre Dame Hospital.
Thanks also to the Rev. Deacon Walter Mazola, who visited our mother, regularly during her illness; and the Ven. Fr. Jim Bennett, her priest and mentor.
The funeral service will be held on Saturday, September 3, at 11:00 a.m., at St. Paul's Anglican Church, 3970 Cote-Saint Catherine Road, Montreal H3T 1E3.
Melita Adassa Ford
It is with deep sadness that the family announces the passing of Melita Adassa Ford (née Stewart)on Tuesday, August 16, 2022 surrounded by her loving family.
She is survived by her loving husband Carl Newton Ford of 61yrs and their 4 children Anthony(Janice), Patricia(Wayne), Pamela and Robert
Cherished grandmother of Jasmyn, Ayesha, Qwintyn, Tyanna, Jeordan
She is also survived by her sister Edna, many nieces and nephews and cousins.
Viewing will be held on Thursday, September 8, 2022 from 7pm to 9pm. Friday, September 9, 2022 at 10:00am to 1:00pm and 5:00pm to 9pm. At Kane and Fetterly Funeral Home, 5301 Decarie Blvd, Montréal, Quebec, H3W 3C4
Funeral service will be held on Saturday, September 10, 2022, at 11:00am at Kane and Fetterly Funeral Home, 5301 Decarie Blvd, Montréal, Quebec H3W 3C4
Interment will be at Cote des Neiges Cemetery
4601 Chemin de la Cote-des-Neiges, Montreal, QuebeC, H3V 1E7
In lieu of flowers, donations can be made to Heart andStroke Foundation or any charitable organization of your choice
The funeral service will be webcast through the Kane and Fetterly website.
Leonora Admatha Lewis
April 11, 1921 – Aug. 13, 2022
Our beloved "Mom," Leonora Admatha Lewis, sadly passed away in hospital surrounded by family, on August 13, 2022, at the blessed age of 101.
She was an immense presence in our lives and touched all of those who were fortunate enough to have been in her company. Leonora was born on April 11, 1921, in St. Vincent and the Grenadines . She is the matriarch of four generations.
Leonora is predeceased by two of her six children, Patsy and Leroy, as well as her 10 brothers and sisters.
She is survived by her children: Ruby (David), Lloyd (Barbara), Clive, and Beulah as well as her daughter-in-law, Claudette. She also leaves behind 14 grandchildren, 26 great-grandchildren, and 2 great-great- grandchildren. She was blessed with numerous friends, a large extended family, caring CLSC staff, and a supportive church family at Bethel Gospel Chapel. She will be dearly missed by all.
Visitation will be held on Monday, August 29th at Urgel Bourgie Lasalle Funeral Complex, located at 1275 Dollard Ave, Lasalle, Quebec H8N 2J1, from 2-5pm and 7-9pm.
A funeral service to honor the life of Leonora Lewis will take place on Tuesday, August 30th, 2022 at 10 am, to be held at Urgel Bourgie Lasalle Funeral Complex, located at 1275 Dollard Ave, Lasalle, Quebec H8N 2J1. Following the service, Leonora will be laid to rest at the Cimetière Jardins Urgel Bourgie located in Ville Saint Laurent at 3955 chem. de la Côte-de-Liesse, Saint-Laurent, QC H4N 2N6.
Our family would like to thank all for your support, condolences, and prayers.
Remembering a community stalwart on the 10th anniversary of his passing
Peter Athelstan Wilkinson
The name Peter Wilkinson resonates loudly for a generation of Montrealers who remembers a giant of a man that stood tall in the arena of broadcasting, entertainment and community building.
This month, relatives and friends are remembering and celebrating him on the 10th anniversary of his passing on August 29, 2012 at the Queen Elizabeth Hospital in his native Barbados.
In the close to 20 years that Wilkinson spent in Quebec, many knew him for his work, first as a producer at CJFM Radio, then at CJAD 800 AM where he served as senior producer for more than a decade and a half.
His broadcasting credentials are also just as illustrious in Barbados where he started at Rediffusion in the early 1960s as a program operator then went back to work as the morning man at Star Radio for many years.
In paying tribute to his dad, Guy Perry remembers a dedicated father who was hard-working and a joy to be around.
"He was a proud man and had a natural ability to bring out the best in people," he says. "I remember also that he was very popular in the community and dedicated to it."
After leaving Barbados and travelling to England, Wilkinson settled in Montreal in the late 1960s and found his way into the ranks of CJAD 800, the leading English-speaking station.
He built an extended and well-respected career as a producer, working with stalwarts such as Jack Finnigan, Paul Reid, Andy Barry among others.
Harry Thurton, one of his compatriots, also worked at CJAD and was a veteran of radio and television in Montreal by the time Wilkinson arrived, remembers his friend as extremely hardworking and very meticulous.
"Peter enjoyed radio and spent a lot of time at the station, making sure that everything was just right. He was also very community minded."
Gemma Raeburn-Baynes, another close friend, partnered with Wilkinson to establish the Miss Black Quebec Pageant, which was a source of social bonding and empowerment to young participants.
Wilkinson served as its vice-president and helped Raeburn-Baynes build the pageant into a community institution in the 1970s and 1980s.
In 1988, he returned to Barbados and remained in broadcasting until 1992, when he retired from Rediffusion.
He died on August 29, after a long battle with cancer.
He is being remembered by his two children, Guy and Angelique and their children Shaquille and Darius Perry and Michel and Leila and great granddaughter, Wynntir (Darius).