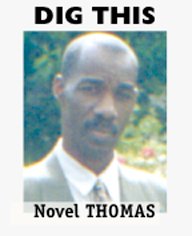 It's looking like another COVID Christmas, but from what I'm hearing in public and some corporate radio and television conversations, most people are looking forward to a festive season as usual, some simply thumbing their noses at the ongoing pandemic realities for the second consecutive holiday season, others ready to sacrifice the short term pain (of following the necessary Covid-19 protocols) to help bring an end to the pandemic scourge.
To paraphrase the old saying, "We've come too far to turn back now…"
We've become accustomed to following all political and scientific-health protocols and directives up to now, she mused, disguising her evident frustration. "It's the wise thing to do" is the overwhelming consensus in her household. "Why change or let up now?"
And then there's that young father I know, clearly a diehard anti-vaxxer who, knowing that his young wife and teenaged daughter have both tested Covid-positive, refuses to at least do the Cover test. That individual truly believes that his athleticism (health conscious lifestyle and exercise regimen) will protect him indefinitely. Yes, in spite of the reality of two positive-tested people in his family household.
Call that man one of the 'adventurous ones' who believe youth and lifestyle will protect them the duration of this deadly non-discriminatory pandemic that doesn't select its victims, but think they're more knowledgable than the experts.
More evidence that no matter your personal status or place in life, no one is exempt, beyond the wrath and limits of Covid-19; everyone who's living and breathing is within the reach of and vulnerable to the deadly wrath of this pandemic, most of the world is experiencing for the first time. As such we all have a personal responsibility to do all that we can, personally and collectively to be apart of the solution, by actively doing as much, all that we can to be a part of the solution, the end, of the Covid-19 pandemic.
The arrival of the new, apparently more deadly Omicron variant, according to scientific minds at the WHO is reason of concern. Perhaps it's additional reason for deniers to start taking matters more seriously.
One woman said in a recent conversation that she and her family have done all they can in preparation for an ole time merry, merry Christmas. They've been prepared for some time now, and won't allow COVID to kill another Christmas. As far as her family's concerned they missed Christmas 2020 and all the celebratory trappings… and over a period of time have made the necessary minor adjustments and preparations for 2021 Christmas.
"Could be my last," she said matter-of-factly. "So…"
Why waste my energy on fussing and fighting about deniers and the rest "when there's an approaching holiday season to celebrate? I hardly celebrated last year."
Well, it will come. It's coming, soon… it's inevitable, in a week or so. Prepare, and hope for the best. Most importantly stay out of COVID's way.
Love or hate it, COVID-19 or not: "It's beginning to look a lot like Christmas…"
That's the truth, that's my promise.
Look under the Christmas tree for my anti-COVID face mask, as you enjoy this other COVID-20 Christmas.
We're all travelling with the same reindeer, so Cheer up! And have yourself a Merry Christmas, Happy Holidays and all the yuletide cheer you can handle.
At least, COVID-19 be damned, we made it.
It's more I can say than those handful of my loved ones who skipped out earlier…
But the pandemic reality cannot be lost in all the coming gaiety, frivolity, alcohol and other things associated/synonymous with Christmas wherever Its recognized and celebrated around the globe, all the while remembering that the pandemic's global presence may dampen, but not kill the spirits of those who traditionally celebrate "the birth of Christ" or however one might refer to, or celebrate the season, and gaiety, period!
Yes, 2020 into 2021 were tumultuous, but we're still breathing. Let's continue to be safe… straight into 2022.
Holiday Cheers… Peace and Blessings…
Next Year!