People Helping People
"Canada is a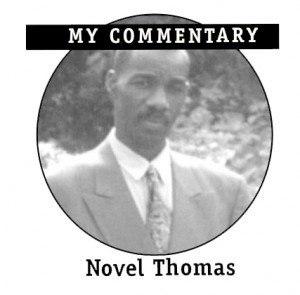 nice place…"
That has become the mantra of a gentleman around town who immigrated to Canada decades ago. He was referring to all the benefits and luxuries, relatively speaking, that are available to Canadians, especially those who, despite sometimes trying circumstances, "are able to make ends meet through the help of various benevolent organizations."
That truism was evident last Tuesday, November 17, when over 40 local not-for-profit organizations converged in the atrium of the John Molson School of Business to showcase their individual and collective services.
It's what Dave McKenzie, Founder and Coordinator, MBA Community Service Initiative, John Molson School of Business at Concordia University, envisioned when he organized the event entitled A Showcase: Opportunities in the not-for-profit sector.
Under different themes, including youth, social development, community development, etc., organizations were provided an opportunity to promote their various services not just to the general public, but also to university staff and students who might be interested in giving back through volunteering or other ways with any of the different organizations.
"It's all about relationship building," McKenzie says. "That's why it was important to have all of them come together, not only to network, but also to collaborate…"
An important aspect, given continuing government cutbacks in financial support to organizations, which most of them depend on to sustain and provide services to people in need.
The concept of collaboration was an important aspect of the showcase; it was an opportunity for organizations providing similar services to possibly build closer relationships, reduce spending, and be more efficient in the process. Throughout the day, strategies for building such intra-organizational relationships, as well as with funders, were also discussed at different workshops and seminars.
Organizations are doing their part, according to McKenzie, and he encourages people, especially those in our community who might need help to first "look in your neighbourhood to see what's available…" If they're unable to help, then take advantage of the resources being offered by other organizations in and around Montreal. "It's about fulfilling their social responsibility," he says.
One of the objectives of the event, then, was to bring as many non-governmental organizations together as possible in one place. By doing so it allowed the general public the opportunity to meet and speak with representatives of the different participating organizations, and learn about their respective missions and objectives.
Social inequities and individual or family personal economic difficulties notwithstanding, Canada remains a nice place to be. Depending on one's personal or family needs, regardless of race, culture or perceived handicap, there are people and organizations out there always ready to offer a helping hand.
"[Providing] services have no colour," Dave McKenzie reiterates. And there are many organizations doing just that at our fingertips.
Among the many organizations showcasing services at the John Molson School of Business Community Service Initiative were: Literacy Unlimited, literacyunlimited.ca, 514-694-0007; Face à Face, a listening and referral centre, 514-934-4546; DJ Sports Club, various programs, 514-373-8146; West End Seniors Table, an umbrella organization (including multiple organizations providing an array of specific and essential services, visit agiteam.org for different contact numbers; BCRC, providing services for youth to seniors, bcrcmontreal.com, 514-342-2247; Montreal City Mission, which provides various services for adults and children alike, montrealcitymission.org, 514-844-9128; Clean Sweepers, serving residents of West end Montreal, 18-years-old and over, coupdebalai.com, 514-484-4266, Ext. 221; ACEM, fighting poverty and exclusion by helping unemployed youth, immigrants, refugees, single parent families, entrepreneurs and professionals to penetrate the labour market, establish small businesses through low interest loans, etc., acemcreditcommunautaire.qc.ca, 514-843-7296; Mile-End Community Mission, meeting the practical, emotional and spiritual needs of those who need it, mileendmission.org, 514-274-3401; CSSSCavendish, Health and Social Services info., cssscavendish.qc.ca, 514-484-7878; Camp Cosmos, providing summer activities for families of all backgrounds, campcosmos.org, 514-844-9128; Action Centre Foundation, provides activities for disabled persons, centreaction.org, 514-366-6868 ext. 229; New Hope Senior Citizens' Centre, provides various services for seniors, 514-484-0425; Innovation Youth, provides various programs and services for youth and families, innovationjeunes.ca, 514-843-3996.