Obama visits Kenya and South Africa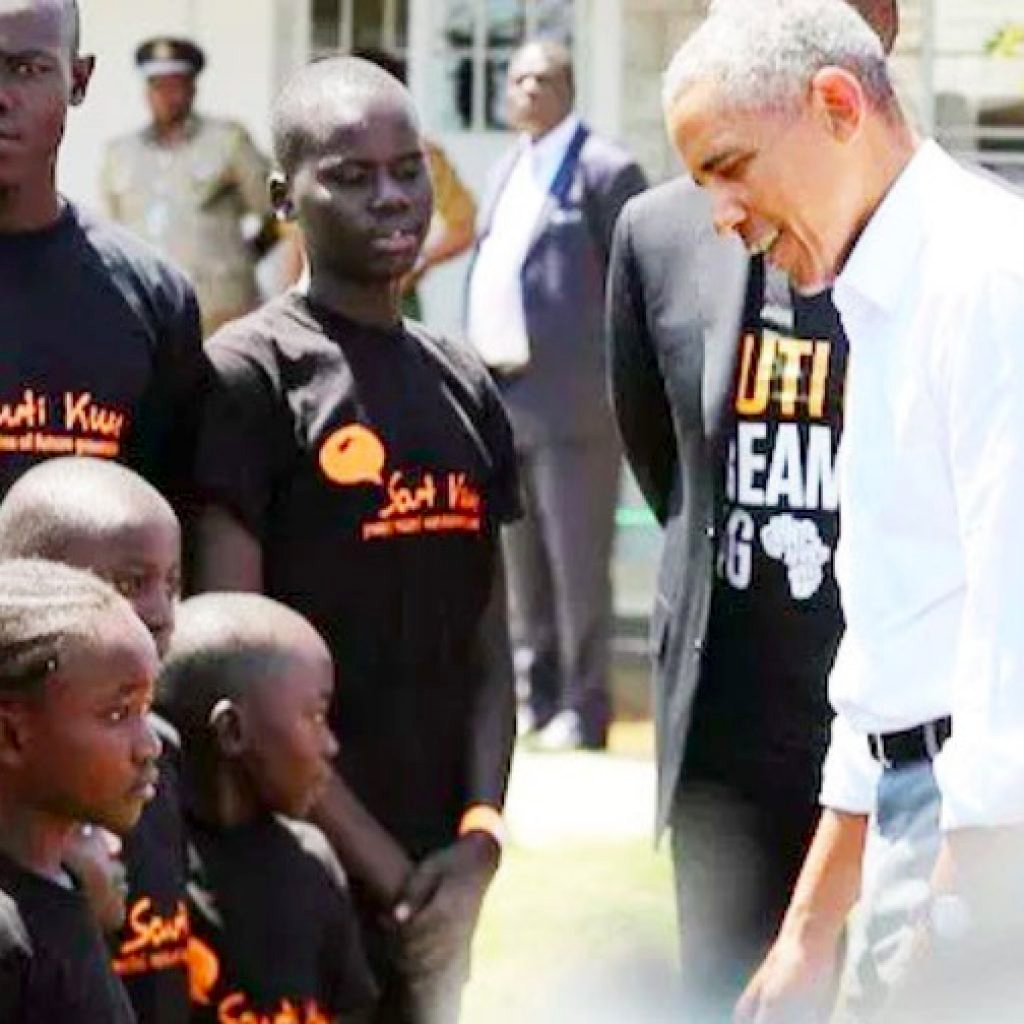 Former U.S. President Barack Obama visited Kenya, his father's native country, on Sunday 15th July. It was his first visit to Africa since leaving office.
His two-day visit was to support the launch of a sports and recreational community center pioneered by his half-sister, Dr. Auma Obama, under her foundation Sauti Kuu (Raised Voice in Swahili) at his father's ancestral home, K'Ogelo.
Mr. Obama praised his sister's efforts in changing the narrative of the African story from asking for handouts, but moving towards empowerment and emancipation.
He also made courtesy visits to President Uhuru Kenyatta and opposition leader Raila Odinga and commended them for putting aside their political differences and working in the national interest.
He then went to South Africa the following Tuesday where he delivered a passionate speech defending democracy and strongly warned leaders –- without reference to any national leader –– against "strongman politics."
"It is time for us to stop paying all of our attention to the world's capitals… and focus on the world's grassroots. That is where democracy comes from," he said in a speech in honor of the 100th anniversary of the birth of the late Nelson Mandela.
France: A victory made in Africa
On Sunday 15th July, France's electrifying 4-2 win over Croatia at the World Cup of soccer sent cheerful vibrations all over the country. But unlike the national team's victory in 1998, the celebration and cheers for the 2018 French national team also reverberated across the African continent.
The celebration in Africa came as fans honored the 15 players of African descent on the French team. "France just won the World Cup, but so did Cameroon, Angola, Nigeria, the DRC, Mali, Guinea and Senegal," one media outlet tweeted.
France has been highlighted as the team with the most diverse players of African heritage, along with Portugal.
France believes that this victory will help boost her image, which has been tarnished by tense race relations.
All through the FIFA World Cup 2018 games, fans all over Africa and the Diaspora were heard referring to France as the "Last African team in the World Cup… and the first African team to win the World Cup."
A fanatic reaction such as this deserves close examination, because the underlying themes being disseminated are that to succeed as an immigrant in a foreign country it's imperative that one shows superhuman abilities; anything average constitutes spewing…
Recently, a young man from Mali, Mamoudou Gassama, scaled an apartment building in order to save a child that was dangerously hanging off a balcony. And this "act of bravery" was rewarded by fast-tracking his naturalization and him becoming a French citizen, and even given a job with the prestigious French fire brigade.
His act of "super humanness" was applauded all over the world. Yet his act of bravery for crossing the Mediterranean seems to have been ignored.
The frenzied applause also shows that there is a belief that success can be found on the proverbial "other side." Those with the ability to do great things within their countries no longer apply themselves because they want to win "abroad."
The problem is African labour to legitimize Western legacies while their own turns to dust. The emphasis should not be that success is found on the other side; but the grass is greener where you water it.
In a bid to boost her finances and encourage foreign investment, which has been in decline since 2011, when investors fled the country due to a series of tough reforms tied to a $12 billion IMF loan program, Egypt has made an incentive for foreigners to receive citizenship by depositing into the Egyptian treasury.
The new amendment to the citizenship act now states that, "Foreigners interested in Egyptian citizenship will deposit at least 7 million Egyptian pounds ($392,000) and then hand it over to the Treasury after five years."
Under the new law, foreigners who make a deposit of 7 million Egyptian pounds or the equivalent in foreign currency receive the option of taking citizenship if they surrender the deposit after five years.
The law has been strongly criticized by legislators and on social media networks. And the government has been accused of "selling Egyptian citizenship" when instead it should be "facilitating residency and visa procedures" for investors.