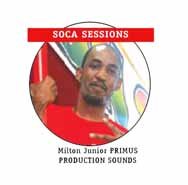 Making thier mark on T&T Carnival
As we get closer to February 27 and 28, known as Trinidad and Tobago Carnival Monday and Tuesday this year, Soca lovers can expect 'real time' information about Trinidad Carnival each time they open the Montreal CommunityCONTACT newspaper.
That's why I will make sure that the Island Scoop article becomes the 'one-stop' for Soca news during Trinidad's and every other carnival around the world.
So what has been going on since the season started?
Let's first start with the Chutney Soca Monarch, one of the first major competitions of the carnival season.
Each year a new (or budding) Soca artist emerges with a major hit song. So who are the hit holders for 2017?
In 1996, the Chutney Soca Organization of Trinidad and Tobago and Southex Events produced the first ever Chutney Soca Monarch that promotes music incorporating Soca elements and Hindi-English.
Chutney Soca Monarch has become one of the most important and largest competitive events and is ranked among the four prestigious events – the International Soca Monarch, the Dimanche Gras and the Panorama Finals – for the Carnival season.
Montreal's very own Michael S'obrian, aka Showtime, will be battling at the 2017 Chutney Soca Monarch semi-finals, Saturday, January 28, for a position in the finals. Thirty-three artists, including Showtime, will be competing at the event, which takes place at LIV Night Club, La Romaine.
Michael S'obrian will be singing his 2017 Chutney Soca hit, titled "Mr. Popular," a song that tells the story of a popular guy among the ladies who is not ready to settle down. This will be the second time Michael is making it to the Chutney Monarch semi-finals. On behalf of all Montrealers we wish him the best of luck as he attempts to dethrone reigning Chutney Soca Monarch KI Persad.
Every year there's this one Soca artist that pops out of nowhere and dominates the Soca charts. This year I will tip my hat to "UNCLE ELLIS," the man with the mega hit "I Don't Mind," and his remarkable story of coming from nothing to something.
I may not be able to give my readers a full run-down of Uncle Ellis's life story, but here's a summary: For years he was known as the dancing homeless man outside KFC, located at Independence Square in Trinidad, who became a tourist attraction during carnival. After many of his dance videos went viral, in 2016 a Soca artist took him off the streets, fixed him up and had him performing at many events. Hence the creation of the popular "Uncle Ellis Wine."
2017 carnival season, Uncle Ellis is making everyone talk – again.
He released a Soca track, which has made him the talk of the town: "Uncle Ellis has a big tune." A runaway power Soca hit "I Doh Mind."  Written by Jovan James and produced by Grenadian Lyndon "Starz" Pope, with musical input courtesy of NYC-based producer Mysta Lyon (Andre Simon), and singer WiLDFiRE (Peter Noel). All of who have made it a truly international project and hit, along with a heart-warming music video.
Uncle Ellis even went on to remix the popular Grenadian song titled, "Ray Tay Tay," with the artist Mya.