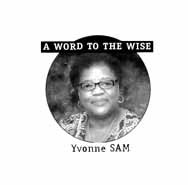 Lack of accountability is compromising what is left of us as a people and a community
Permit me to preface this article by saying a few things. Firstly, this article is not about any personal feeling of superiority, or better-than-thou attitude. Secondly, it's no hidden fact, but our ethnic group has the biggest denial problem when it comes to accountability–there's always a counter reason for whatever we do. Thirdly, no ethnic group is perfect, and yes, other groups shun accountability as well. In fact a government, which we all know well, probably wrote the book on denial of accountability. But that's another article for another time.
Some readers may not like the medicine that I am about to administer, but I guarantee that the awful-tasting cocktail will taste better by the end.
For some strange reason the word accountability in the Black community produces the same reaction as a red rag appearing in the direct vision of a bull. In fact, the word is used so often and indiscriminately that it has become almost meaningless.
Let me examine the disconnect between rhetoric and accountability as it applies to individuals' obligation to be accountable for their own behavior.
For Blacks, the most egregious effect of a lack of accountability is the resulting tendency to perpetuate a status quo that by any measure is not in the community's best interests. It only helps to aggravate the very conditions that continue to hinder Blacks forward movement. There's a strong need to rigorously re-examine prevailing attitudes, and then work towards developing drastically different group and community values. It is indispensable for achieving sustainable progress.
I feel that this discussion is important because problems affecting Black folks should be honestly described as soft peddling distorts the truth. On the other hand ignoring has serious negative implications. Regrettably, we even behave better around other ethnic groups than we do around each other, almost as if we seem to raise our standards when we are around those who will not accept any less from us.
High standards should be a personal and internal expectation, not something we turn up and down depending on whom we come in contact with.
Our communally displayed behavior has descended to such a pitiable level that I am praying that it descends no further.
Truth be told, we are now gaining notoriety even in the most morbid of places, funeral homes. Post-funeral receptions or repasts offer guests and family members a chance to spend time together in a more casual setting while remembering the deceased. Basically, these events are a more comfortable environment for remembering the person who died and spending time with the grieving family and friends.
Although the repast is more casual and social than a funeral, it is still a somber event, and our behaviors reflect the respect that we still possess for the departed soul. This is no longer so. We have set a new trend: transforming post-funeral receptions into take-home gatherings. Even before the body of the deceased is lowered into the ground, or the funeral procession has disappeared from full view of the church or funeral home, people immediately spring into action with their take-out containers, Ziploc bags, foil sheets, Styrofoam cups or paper napkins converted into coverings for plates.
Truthfully, if your primary reason for attending the funeral is/was to pay respect to the deceased and offer condolences to the bereaved family, then food should be the last thing on anyone's mind.
Post-funeral receptions should not be treated like weddings where one grumbles about the insufficiency or unavailability of certain food items, or a meal that is presented in an unaccustomed manner.
Yes, we need to be held accountable for our behavior, as it is blatantly evident that food or the lack of it, even at somber events such as funerals, remains a big deal for Blacks.
I attended a funeral where the so-called mourners jostled each other for food. I even witnessed an occasion where a mourner joined a table, with evidence of a piscine specie taking pride of place on her plate, a treat that seemingly was absent when the other mourners at the same table had been served.
A brief inquiry and confirmation as to the existence of the aquatic delicacy caused the others to make a hasty retreat from the table, all heading in the direction of this much sought after piscine delicacy.
I shudder to think that anyone with a modicum of moral decency would disagree with me that hoarding food or having take-home containers at a funeral is not only downright tacky, but also a tad disrespectful.
According to funeral etiquette it is acceptable to go for seconds when the host encourages it, but secreting portions from the serving table is rather inconsiderate to other visitors who have yet to partake of the food.
From my viewpoint, requesting or hoarding food from a repast is akin to taking advantage of the family's grief and tragedy.
Our inability to listen to anybody blatantly reflects a lack of understanding that we are all connected, and our actions affect the next person of the same ethnicity—our sister, our brother, our children.
Our lack of accountability can therefore shape perceptions of Black people and make it either harder or easier on the next person. It is these errors in perception that continue to allow for division.
The sad and lamentable part is how accurate this description is for a great many Blacks.
As a people our standards are low. We have a mindset of mediocrity, our expectations are even lower and our output has sunken into an abyss full of excuses and rejection of correction. Our people as a whole hate being called out, and that has to change like yesterday.
Lack of accountability is killing our unity and what is left of us as a people and a community.
Aleuta—The struggle continues.
Does it signal better days for Blacks?
Tamara Thermitus' appointment A First for Quebec
By Yvonne Sam
It's been a long time coming, but a change has finally come.
The seemingly impossible became possible right smack during Black History Month, almost like a long-awaited gift to Quebec Blacks. Tamara Thermitus, an anti-discrimination lawyer of Haitian origin, was named head of the Quebec Human Rights Commission in early February, with the unanimous support of the National Assembly. However, her appointment was not a slam dunk; it seems that her appointment was originally challenged by opposition politicians who claimed that she was too "multiculturalist" and much too close for comfort to Dominique Anglade, a Liberal cabinet minister who also shares the same roots.
The Human Rights Commission is specifically mandated to ensure that Quebec's laws, bylaws, standards and institutional practices, both public and private, comply with the Quebec Charter of Human Rights and Freedoms, which prohibits discrimination based on "race," colour, ethnic or national origin and religion. Hitherto, the Commission lacked both Anglophone and minority representation, and since its creation in 1976, Thermitus will be the second woman and the first Black to oversee the organization — a situation that testifies to the under-representation of Black Quebecers in decision-making bodies.
Despite the fact of Thermitus' appointment as head of Quebec's Human Rights Commission is truly symbolic for Blacks and the Haitian community in Quebec, Blacks nevertheless should not be lulled into a false sense of complacency.
We have made strides and advances', giving the impression that everything is resolved, but this is not the case. We must press on for diversity with the appointment of the other four remaining human rights commissioners. There is an urgent and ongoing need for public education to ensure that there is greater awareness regarding the value of diversity to society as a whole.
According to Premier Philippe Couillard, the appointment of Thermitus sends a very strong signal about the place that people of diverse backgrounds must occupy in our society. Strong words well spoken would be better if adhered to.
In September 2016, Parti Québécois MNA, then-leadership candidate, Jean-François Lisée pointed out the presence of systemic racism in Quebec, and called on the government to spring into action rather than hold public consultations. In response the Couillard government said it would soon announce a plan to look into the issue.
Since the creation of the Quebec Human Rights Tribunal in 1990 it has never brought a case of systemic racism before the tribunal. The first court decision on systemic racism in Quebec was issued only in 2013 by the Superior Court. That case involved Olthene Tanisma, a Haitian-born urban planner who successfully sued the City of Montreal, after his case was stalled at the Human Rights Commission.
In order to cultivate an arena of legitimacy in the eyes of the citizenry, Couillard was repeatedly called upon, when filling existing vacancies, to give thoughtful and deliberate consideration to racial and linguistic diversity. At that time there was a blatant absence of Black or Anglophone commissioners in the current composition, which only served to further impair the decision-making process.
It stands to basic logic that in a world where perception can be as important as reality, it is critically important that visible minorities believe that the deck is evenly stacked, and that they have as much of a chance of being judged by someone who looks like them, as someone else.
The appointment of Tamara Thermitus as head of the Quebec Human Rights Commission will go a long way toward allaying any fears and improving chances of a satisfactory resolution. But with her appointment, have Black Quebecers seen the last of the past, and does this herald a new cast? Or will this, as welcome as it is, be seen as a mere sop, an isolated gesture?
Aleuta— The struggle continues.