Thank You from the family of Hilton Thomas
My family join me in extending sincere gratitude to all who have touched our lives during the recent illness and consequently the passing of our beloved Hilton Thomas.
Your prayers and other kind expressions are a comfort as we accept all that we cannot change or control.
For those who have expressed interest in support in establishing a scholarship fund to continue Mr. Thomas's work to assist vocational training for the least of these, please contact Cynthia Thomas at 514-696-3059 for further details.
Thanks once again to the community for your support.
Cynthia and family
Remembering Mrs. Sylvia Phillips, (nee Johnson) "Mumsie"
On May 20, the community turned out in their numbers to bid farewell to a woman who has been a mother and a grandmother to many. There's a reason why they call Mrs. Sylvia Phillips, (nee Johnson) Mumsie.
She died on May 11, at the age of 93.
For decades, Mumsie has been a matriarchal figure to members of West Can Folk Performing Company and Hilltoppers Sports and Cultural Club, two foundational community organizations that have their roots in her native Trinidad and Tobago.
Throughout the years Mumsie has been there as a pillar of support to her late husband, Vernon 'Dadsie' Phillips and their daughters, Debra and Dolores and eventually took on the role of mother to all.
Mumsie's home became planning central to a long list of community events and activities. Her cooking and baking fed many in the community and were a delight to all who had the good fortune to enjoy to partake in her offerings.
Also, her church has always been the foundation of her life.
In the decades that she has been a part of our community, Mumsie touched the lives of many with her kindness and grace.
And she will be remembered for it.
Mrs. Sylvia (nee Johnson) Phillips
Loving wife of Vernon Phillips (deceased)
Sons: Kirth and Patrck (deceased)
Brothers: Egbert, Noble and Lincoln (deceased)
Mumsie leaves to Mourn
Sisters: Monica and DaphneyChildren: Richard, Debra and Dolores also 17 grandchildren and 25 great grandchildren,
sons-in-law; daughters-in-law, cousins, nieces and nephews as well as many friends.
Acknowledgements:
The family and relatives wish to thank you all for your expression of love and concern, your presence with us at this time, your kind words of sympathy and prayers have been a source of great comfort.
May God Bless you all.
Remembering Dr. Bernard F. Gibbs
With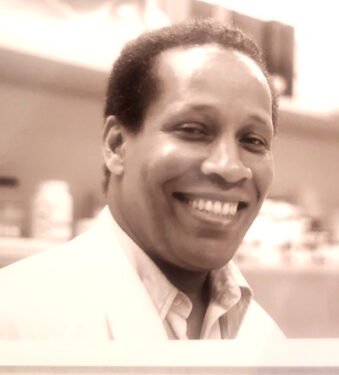 the passing of Dr. Bernard Gibbs on Sunday May 21st at the age of 76, the community lost a scholar and a champion musician, whose passion for the steelpan was boundless.
Some knew him as "Bernie", others "Catty", but most called him Gibbs.
As an academic he stood tall among the most prominent researchers in the province with a with an outstanding body of studies on cancer, HIV medications and diabetes. Dr. Gibbs also served as an adjunct professor in the department of Medicine at McGill University.
Born in Saint John, Grenada, Bernard embarked on his academic journey at Presentation Brothers College then he started teaching at St. John's Anglican School in Gouyave.
He moved to Canada in 1967, to attend Radio College of Canada (later became Yorkville University.)
Bernard then signed up at Sir George Williams University (later Concordia University) where he met what he described as his "first love": Chemistry.
He earned Bachelor's and Master's degree in Biochemistry before enrolling at McGill University to complete a P.hD. in Biochemistry.
Bernard's other passion was music and was adept on the piano, trumpet, guitar but it was as a steelpan player many in the community has come to know him.
Over the years Gibbs played with Martin Albino and The Savoys and also gigged with Salah Steelpan Academy. He then formed his own band with his three youngest children, performing at community events over the years.
Dr. Bernard Gibbs will be remembered for his enjoyment of life and a good "lime," as well as his love for his four kids: Ivan, Bernie, Robert and Natasha
Also leaves to mourn, Willian (Sami), Barbara, Jenny (Roosevelt), Alvin and Alma (Denis).
A celebration of his live took place on Thursday, May 25.
Remembering Otis Lloyd Lewis
Sunrise March 17,1970 – Sunset May 19, 2003
A mill
ion times we needed you,
A million times we cried,
If love alone could have saved you,
You never would have died.
If all the world was ours to give,
We would give it yes and more,
To see you coming up the steps,
Walking through the door.
To hear your voice and see you smile,
To sit and talk a while,
To be with you that same old way,
Would be our fondest day.
A heart of gold stop beating,
Two smiling eyes closed to rest,
God broke out hearts to prove to us,
That he only takes the best.
Forever missed by your loving
family and friends.
Aviann Lewis-Morris