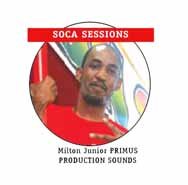 They say the official end of summer is September 22, but I would say as soon as the Montreal International Reggae Festival happens, summer is coming to a close.
To me the MIRF is considered to be Montreal's official end-of- summer event, and that's when you know the freedom of time spent outdoors in the warm weather is almost over.
For partygoers looking for the last summer party festival fix, I recommend you head south of the border to the New York City carnival. The New York Labor Day Parade (or West Indian Carnival) is an annual celebration held on Labor Day in Crown Heights, Brooklyn the first Monday in September.
This year it falls on September 4, and attracts between one and three million visitors to the city.
New York City Carnival used to be one of the biggest carnival attractions in North America, but it has slowly declined over the years because of violence. Many incidents in the past caused city officials to shift the start time of the pre-dawn (J'ouvert) festival as well as taking other (security) precautions to stem potential incidences ahead of this year's West Indian Day Parade.
The J'ouvert usually begins at 4 a.m. on Labor Day on the streets of Brooklyn, but will start this year at 6 a.m. Barriers will be erected along the route, so revelers will have to pass through metal detectors, and no alcohol or backpacks will be allowed along the route.
Light towers will be placed at entry points to make it easier to see, thousands of additional officers will be on patrol and will police party venues outside the barriers. Police say the precautions are similar to security during New Year's Eve in Times Square.
The Parade starts at 11 a.m. at the Brooklyn Museum with lots of steel pan, soca, calypso and mas' bands in elaborate costumes marching down Eastern Parkway in Crown Heights, Brooklyn, which is usually lined with vendors selling home-style island grub along the route. The party lasts for about seven hours.
This NYC Carnival with its lots of fetes and boat rides is a must on many people's summer calendar.
As the last days of summer are upon us, the change of season will bring with it a sense of loss and a feeling of being a bit down.
While students find themselves dreading "back to school" and the return of a daily routine, which include exams, homework, studying, assignments… Others wonder what lies ahead besides the cold weather.
Rest assured, during the fall and winter season we will reflect on the high points of the summer that slipped away so quickly, while preparing for it next year. So for the remainder of the warm days, please enjoy every chance you can outside.
Island Facts:
August 31, 1968 – birthday of Glenroy Gilbert, Trinidad Canadian Olympic gold – 96-4X100m sprinter
September 8, 1969 – Jamaica changes currency to the decimal format.
Be free to send your feedback on any of my articles to Productionsounds@gmail.com or Instagram: @ProductionJr
Production Sounds Chart:
1 Split In Di Middle – Freezy
2 Brave – Dynamite
3 Single – Orlando Octave
4 Banga – Aidonia
5 Full Extreme – Ultimate Rejects
6 Fast Wine – Machel Montano
7 Baila Mami – Nailah Blackman
8 She Bad – Turner
9 Big Girl – Patrice Roberts
10 Like Nike – Kerwin du bois\Lavaman