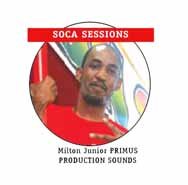 Talk about having the best couple weeks ever.
The popular Soca artist, Olatunji, has become a mainstream topic worldwide after  making  it through to the next round of the
United Kingdom's X Factor show.
The popular Trinidad performer  after delivering an energetic performance of his hit "Bodyline" on one of the show on Sunday, September 2 and celebrated his birthday on September 3rd.
If you are asking yourself what is The X Factor and who is Olatunji here's the answer.
The X Factor is a British reality television music competition show seeking new singing talent. The contestants are aspiring singers drawn from public auditions.
Created by Simon Cowell, the show began in 2004 and has been airing  from August and September to December.
Olatunji Yearwood, aka Ola, is 33-years-old, and comes of
Trinidad and Tobago. He is the son of composer Edward Yearwood and Mairoon Ali, who was a well-known actress and comedian in Trinidad.
Olatunji is also pretty well known back home, having won a number of local talent shows when he was a teenager, before being crowned winner of Trinidad's Soca Groovy Monarch/International Soca Monarch in 2015, when he performed the winning track.
In 2016, Olatunji blessed Montreal with his first solo performance at the MIRF, and went on to release an album, Awakening, that same year..
In the intro video leading up to his audition, Olatunji said he
loves the UK and has been traveling back and forth since he was 15 as he has family there.
Olatunji stated that he thought the X Factor was the best stage to promote soca music worldwide. And hended the brief video clip with his famous "Tadow " chant.
Giving a "footwork" teaser as he walked out on stage, Olatunji,
dressed in a mustard-coloured jacket suit, hyped up the crowd by
getting them to chant and wave after him.
When his 2018 Soca single, Bodyline, started to play, Olatunji was joined onstage by two female dancers who shook their entire bodyline. He ended his performance with an "I love you" and received a standing ovation.
Olatunji's success in this first round, which aired live on television and quickly went viral on social media with scores of people expressing pride and wishing him all the best in the remainder of the competition.
Island Facts
Sept. 19th, 1983 – The twin island nation of Saint Kitts and Nevis
gains independence from the UK.
Sept 25th, 1970 — The first scheduled flight by a Panam Jumbo Jet
lands in Jamaica, marking the beginning of a new age in Tourism.
Be free to send your feedback on any of my articles to
Productionsounds@gmail.com or Instragram : @Productionjr