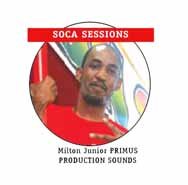 As soon as fall season hits, I start searching  for cheap flights to Trinidad and  Tobago for the 2018 carnival.
While I focus on  T&T, others are preparing for their final North American carnival fix in  Miami. Hurricane Irma was not enough to stop this year's Miami Broward  One Carnival.
The Carnival is set to take place on Sunday, October 8,  2017 and the weekend promises it's usual treats of Caribbean food,  music and people. Miami Carnival is also the stepping-stone for many  Soca artists introducing their new music for 2018.
After  the hurricane, anticipation is building and people are ready to let  off steam.
Miami Carnival marks the end of all major Carnival celebrations in North America for the year.
I have written  articles on Canadian Carnivals such as Carivibe (Ottawa), Carifiesta  (Montreal) and Caribana (Toronto) but haven't yet  covered the largest Caribbean carnivals in North America.
The Miami Broward Carnival as it is officially called, takes place every year, on the Sunday before Columbus Day.
Known as  the best Carnival in the United States as it has the benefits of cool  Caribbean weather this time of the year.
Masquerades and spectators  alike from all over embrace the colorful costumes, fetes and parties  for the entire weekend.
Living in Montreal we know that Toronto Carnival  didn't become the biggest Canadian Carnival over night. It took time  and proper organization just like Miami Carnival, which has steadily  grown from a small neighborhood festival in 1984 to a major  international event.
This year Miami will be celebrating 33 years.
The Miami Broward Carnival always falls on Canadian thanksgiving  weekend, making it convenient for Canadians to take the short fight over.
Many new artists choose this time to release, with  the expectation of getting enough time for their songs to build  momentum before the popular artistes releases.
New Soca tracks will coming out in  abundance.
Island facts:
Oct 14, 1983 –  Grenada leftist coup under vice-premier Coard     
Oct 15, 1994 – President Jean-Bertrand Aristide returns to his seat  in Haiti after living in exile following a coup three years before.  
Be free to send your feedback on any of my articles to  Productionsounds@gmail.com or Twitter : @Productionjr    
Production Sounds Chart  
1 Combine – Kes
2 Split In Di Middle – Freezy
3 Lil Natty & Thunder – Top Striker
4 Brave – Dynamite
5 Yeah Yeah – Aidonia
6 Fast Wine – Machel Montano
7  Banga – Aidonia
8 Baila Mami –
Nailah Blackman
9 She Bad – Turner
10  Big Girl – Patrice Roberts