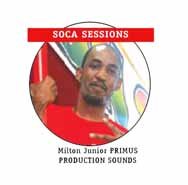 This year , Montreal Trini Day faced a few obstacles.
For one, the location of the venue, the lack of substantial promotion of the event and then there was the $5 entrance fee that troubled some people.
But in spite of everything, Trini Day was still nice because as we have come to learn: you can take us out of Trinidad & Tobago but you can't take Trinidad & Tobago out of us.
It was nice to see patrons of all ages turn out to the event. My grandmother always says "when people support each other incredible things happens".
For us the organizers, the support of those who showed up to celebrate with us was very encouraging.
For us, Trini Day is an attempt to bring cultural awareness and appreciation of Trinidad and Tobago  to our community.
They say a picture is worth a thousand words, so here are those words in photos
of Montreal Trini Day, held on August 18, at John Abbot College.
Be free to send your feedback on any of my articles to
Productionsounds@gmail.com or Instagram : @ProductionJr