They say Ola, Ola Ola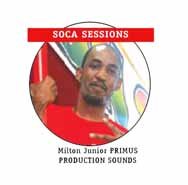 First and foremost I would like to wish  readers a Happy and Prosperous New Year.
I believe 2015 should be a year of change, not only in our mindset, but also expressed through what we do.
Looking back at 2014, I'm still amazed how fast the year ended. We covered the various carnivals… Montreal, Toronto, New York, Miami and Notting Hill.
We all know with the beginning of the year comes the start of Trinidad Carnival season. Everyone knows that Trinidad & Tobago is the mother of all West Indian carnivals, which attracts visitors, including international celebrities, from all over the world.
Trinidad Carnival 2015 was launched on Dec. 26, 2014 and will continue until the  two days of the parade, February 16 and 17.
I strongly believe this will be the year of Soca growth in Montreal and internationally.
So what's on in the Soca scene for 2015?
Well, I can tell you that all the Soca ladies have been chanting  "Ola, Ola."
Ola is the title of Soca artist Olatunji's latest hit. This song makes Olatunji by far the hottest act in Trinidad and Tobago this season.
"Ola" is on one of many songs that can be found on the popular Kan Kan Riddim, which is literally ripping up all the Soca charts.
Olatunji Yearwood released his smash hit "Ola," in mid-November 2014, and from then it has become viral.  Olatunji Yearwood is riding the waves of a successful Carnival season with the song "Ola" which many say is a major contender for the Digicel International Soca Monarch competition.
This song is loved by partygoers and continues to enjoy heavy rotation on the airwaves.
Olatunji Yearwood was born in Trinidad and Tobago, to parents Edward Yearwood, a well-known composer, and the late Mairoon Ali, an actress, radio personality and teacher.

From birth, it was evident that Olatunji or "Ola" as he is widely known came into this world with raw talent flowing through his veins.
In 2011, he was fired from Roy Cape All Stars. The entertainer, who spent four years with the band, said besides being hurt, he struggled to find his way following his dismissal.
But in 2015, Olatunji is guaranteed to bask in the global spotlight with the song, "Ola."
Advo Kit Productions is known for creating amazing Soca hits, and this tune, which is a featured track on the Kan Kan Riddim, proves to be no different. Talented producer Kitwana Israel, who is at the helm of AdvoKit Productions, delivers a Soca-spiced hit with flawlessly-weaved African and dance influences to infuse an international flavour, thereby guaranteeing Olatunji's place in the global spotlight.
Not only has his latest song captured the heart of Soca lovers, but Pan men also. "Ola" has become the tune of choice for reigning Panorama Champions, Phase Two Pan Groove, which is going for a hat trick in Panorama 2015.
The music was composed by arranger Boogsie Sharpe with lyrics by Nigel Rojas and produced by Leston Paul.
Boogsie called out his troops as Phase Two began practicing for the season.
In 2015, Olatunji has become a force to reckon with and is determined to take away the Digicel International Groovy Soca title from Kerwin
Du Bois.
Island Facts:
– Jan. 3, 1972 – Trini super group Xtatik's vocalist Peter C. was born on this day in San Fernando, Trinidad and Tobago.
– Jan. 4, 1901 – Famed Trinidadian writer born on this day.
Be free to send your feedback on any of my articles to email – Productionsounds@gmail.com, twitter-@Productionjr, Instagram-@ProductionJr
 
01. Like A Boss – Machel Montano
02. Cloud 9 – Lyrikal
03. Raze – Fay Ann Lyons
04. No Apology – Kerwin Du Bois
05. Phenominal /Ola /Her Love – Benjai/Olatunji /Flipo
06. Million – Kes The Band
08. Lucy – Destra
09. Motivation – Shal Marshall
10. Pop A Bottle – Machel Montano