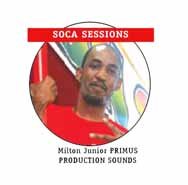 The weather in Montreal can be a nuisance and the winter's cold may kill our partying spirit, but have no fear as Spring is here, even though you couldn't tell from looking outside.
As the calendar tells us, Spring 2018 arrives Tuesday, 20th March at 9:16 am to Thursday, 21st June,
And as the  warmer days approach, so to are an exciting lineup of  Soca-based events. It might even be safe to say the Soca scene here in Montreal is growing more exciting….. Montreal Is Soca.
Here's a list of a few of the events to look out for:
Hello Spring – This event takes place on Saturday, 24th March at MCSO. It will be one of the first Soca-oriented events, with a theme of not only welcoming Spring from the popular 2018 Soca hit by Kes, titled "HELLO."
Big People Ting – This event is on Saturday, 21st April at MCSO. It will be my (Production Sounds) first birthday celebration, with a surprise guest from Trinidad. It's expected to be different.
Team Greenz Band Launch – This event is on Saturday, 12th May at Catalogna Lounge.
Team Greenz! This local and international group of Grenadian djs plans to bring a T-Shirt band to Montreal Carifiesta. They will be featuring for the first time in Montreal, Wuss Ways (Lil Natty & Thunda).
I AM SOCA – This event is on Saturday 19th May at Catalogna Lounge. On its first Canadian tour this 100% Soca event was founded in NYC, and become one of the biggest International Soca events (acts) nationwide.
Soca Strike – This event in May, (date tba) at Salle de Quilles Pont Mercier. Soca Bowling has slowly become a family tradition in Montreal. It gives young Soca lovers an opportunity to bring their peers and parents together as they enjoy Soca and bowling at the same time.
I've noticed a vast improvement in the Montreal Soca scene, just by looking at what's in store for 2018 spring.
Unlike previous years, Montreal Soca lovers are up-to-date with Soca music and for this I would like to give thanks to our promoters.
Be free to send your feedback on any of my articles to Productionsounds@gmail.com or Instagram @ProductionJr