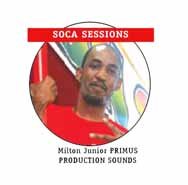 This year, Montreal's biggest end-of-season fete, Touch Of Red, is coming back with a bang.
On Saturday, November 11, Touch Of Red is celebrating its fifth edition and this one is guaranteed to be better than the others.
Touch Of Red always features an international soca star, but this year there will be two.
And as the date draws near, Touch Of Red 5 appears to be the most anticipated event of 2017. Some say because of the artist and DJ line-up while others say that the event has fallen on a time when Soca music is craved the most. Either way, the wait is almost over, as Saturday, November 11th draws closer and the Touch Of Red 5 event hits the horizon.
This year, party goers can't wait for the coming of  the Grenadian Ambassador of Soca,  "Skinny Banton" as well as The king of the stage ,  "Riggo Suave". Shirlan George aka Skinny Banton, hailing from the Tri island state of Grenada, Carriacou and Petite Martinique, is penetrating the soca music industry with his unique and diverse ragga sound/style.
His love for music was identified at the tender age of 12 and has blossomed in to what some may say also makes him "The Jab Ambassador".
The world started to take notice of Skinny 2015 when he advanced into the semi-finals of the International Power Soca Monarch in Trinidad and Tobago with "Soak it Good".
The hit single was originally released in 2014 and pushed a higher level of international  recognition within the rising success of Jab Jab music all across the globe. The year 2015 continued to be a great year for Skinny Banton with the releases of other hits such as "Front Yard Wet" "Freedom To Whine" and "Ready To Chip," earned him  a nomination in  several categories  at the first annual Grenada Music Awards.
International Dj Riggo Suave from New York City  inspiration for playing music grew out of watching his father MC and DJ for events from  a young age. The way he could captivate an audience through the sounds of the music and his voice leading them.
His path to musical prominence began at age 7.
Not only  has he been displaying his craft around the NYC but also he has become a regular at carnivals around the world in  Miami, Trinidad, Bermuda, and Barbados,  spreading his style of DJing.
He has climbed his way into the ranks of highly recognized international DJs across the world. Earning the respect and recognition of his talents by well-known artists and now he is known as Skinny Fabulous official tour Dj.
Partygoers must wear something red, whether it is shoes, lipstick, handbag or hair…. red must dominate.
Out of all my annual events, "Touch Of Red" is considered my favorite.  We all know the party scene is getting bad from worse, so instead of quitting I have decided to bring one artist a year and only to this event. Touch Of Red fete caters to every island and culture that respect Soca.
In 2013 we brought a Trinidadian artist; in 2014 it was
Vincy soca star,  and in 2015 it was a Bajan. In 2016 another Vincy artist came to the event and this year, we paying respect to the Grenadian massive.
Touch Of Red event is my contribution towards building a better soca scene in Montreal.
Touch Or Red 5 event will also feature Montreal 's top Soca Djs including as, Mawga K, Nemesis Soundz, Team Greenz, Production Sounds as well and
Brooklyn New York baddest Dj "Riggo Suave".  Come experience aunforgettable night downtown Montreal at Club Le Cinq.
.Be free to send your feedback on any of my articles to Productionsounds@gmail.com or Twitter : @Productionjr
Production Sounds Chart
Bad in BumBum – Mighty ft. Subance
2 Split In Di Middle – Freezy
3 Lil Natty & Thunder – Top Striker
4 Brave – Dynamite
5 Yeah Yeah – Aidonia
6 Give It To Ya – Marzville
7  Banga – Aidonia
8 Baila Mami – Nailah Blackman
9 She Bad – Turner
10 Combine – Kes