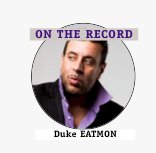 "Self Titled"
– Eric Benet –
Jordan House Records
Eric Benet can sing his tail off. He is and always was bursting at the seams with talent and creativity. From choosing to cover the  1973 classic Sly And The Family Stone gem "If You Want Me To Stay", on his 1996 debut album "True To Myself" to his trading vocal licks with Roy Ayers' vibraphone on the heartbreaking "When You Think Of Me" from Benet's 1999 sophomore set "A Day In The Life".
Creativity and an incredible voice were not the issues in Benet's stormy career.
His high profile marriage to Hollywood legend Halle Berry, from 2001 – 2005, overshadowed anything he ever put out on wax or his high energy, emotionally charged concerts.
With allegations of Benet's infidelity and sex addiction, it almost darn well made him the Ike Turner of the new millennium.
Benet had a much less publicized battle with his label Warner Bros., who refused to release his 2001 album "Better And Better", which dabbled with different genres of music including Latin rhythms. Warner told him to stay in the RnB genre or else they would not put out the record.
Subsequently, Benet left the label for Reprise's Friday Records (still a sub-division of Warner's) and released his 2005 set "Hurricane", leaving an eternal music business gap of 5 years between albums, which slowed down the momentum of an otherwise promising career.
In 2011, he married Prince's 2nd wife, the Toronto born Manuela Testolini, which went less considerably under the radar then his marriage to Berry.
After two children with Testolini, Benet has settled into fatherhood as well as dabbling in acting (something he has done on and off since 1998), co starring on the BET comedy "The Real Husbands Of Hollywood", alongside Bobby Brown, Kevin Hart and Boris Kodjoe.
Most importantly though, he's settled down to making great music again, which he does on his latest eponymous release.
The album kicks off with the old-school meets the true school groove of "Can't Tell U Enough", which evokes the spirit of Otis Redding with Babyface inspired melody and harmonies.
"Thought I had been in love before but now I'm not sure" he sings as he professes his appreciate love for Testolini with extremely soulful results.
This is followed by the set's 1st single "Sunshine". "Sunshine" is a ballad with an obvious Prince influence but the Purple One's magic id most felt on the ensuing track "Insane". "Insane" with its staccato piano playing reminiscent of the "The Beautiful Ones" from the 1984 "Purple Rain" soundtrack with blazing sexy guitar roars which hark back to His Royal Badness' "Joy In Repetition" and "Shhh".
The falsetto on "Insane" reeks of Prince's "Do Me Baby" and "Insatiable".
The up tempo of "Cold Trigger" with its live horns and jazzy guitar has a sort of Zhane groove with more falsetto harmonies and sexy lyrics.
The radio pop friendly "Home" is heartfelt about a love lost as is the equally poppy but funky "Holdin' On" with an incredible appearance by the greatest female m.c. ever M.C. Lyte.
The sensuous "Fun & Games" highlights Benet highly under-rated voice.
"Run to Me", featuring legendary Cuban trumpeter and 10 times Grammy winner Arturo Sandoval, hints at what Benet was dabbling in on the unreleased "Better And Better".
"The beautiful piano ballad "That Day" evokes the chords of John Lennon's legendary "Imagine".
The album closer "Never Be The Same"(Luna's Lullaby) dedicated to his youngest daughter Amoura Luna, is another radio friendly ballad powered by piano and violins with a sing along melody.
Benet is back! Recognize!
                                                                                       Rating = 8/10
"Human Nature"
– Herb Alpert –
Herb Alpert Presents Records
Herb Alpert is a lifelong master of "cultural appropriation."
From his 1962 debut "The Lonely Bull" as Herb Alpert & The Tijuana Brass, he had people for decades thinking he was Mexican (He's a nice Jewish boy from Eastside Los Angeles).
Albert's unmistakable trumpet fuelled classic Latin sounding romantic anthems like, "Whipped Cream", "Tijuana Taxi", "A Taste Of Honey", "Lollipops And Roses, and countless others, making Alpert the undisputed king of elevator music of the 1960s.
He even tried his hand at singing on the 1968 chart-topper "This Guy's In Love With", penned by Burt Bacharach and Hal David.
Then in the 1970s, Alpert jumped on the jazz/rock/funk fusion started by Miles Davis on his epic 1970 groundbreaking album "Bitches Brew."
His 1979 funk/jazz exercise, "Rise" was most immortalized in 1997 as it was sampled for The Notorious B.I.G.'s "Hypnotize."
In the 80s, Alpert decided he wanted in on The Minneapolis Sound as Janet Jackson was enjoying monstrous success with her 3rd album "Control", which was produced by Jimmy Jam & Terry Lewis of The Time.
Jackson, who was on Alpert's label A&M (Alpert is the A in A&M, Alpert's producer Jerry Moss in the M) was coaxed into singing on Alpert's 1987 single, "Diamonds", which was produced by Jam & Lewis from his album "Keep Your Eye On Me".
On "Human Nature", Alpert seems to have fancied himself a sort of EMD connoisseur with an absolutely bizarre dance rendition of Michael Jackson's 1982 classic ballad of the same name.
"Human Nature" was written by members of Toto for M.J.'s  "Thriller" album, the biggest selling record of all time.
The chord changes and textures of "Human Nature" were meant only to be played at a ballad tempo, not a strange up-tempo EDM pace with sparse random singing, weaving in and out of the track.
The added Latin and African rhythms to "Nature" don't drive the point home any better either.
The attempted Latin dance workout of "Shake It" doesn't fare much better than more elevator music either.
The ambient production of the Bacharach/David classic "Alfie" tries, but sounds outdated.
Other Latin-fused EDM attempts on this set sound dated and border 1970s "porno music."
Pick up "You're Under Arrest" by Miles instead!
                                                                Rating = 5/10