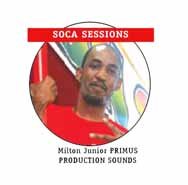 Over capacity crowds jammed Montreal and T.O events
On Victoria Long weekend, the I AM SOCA Canadian tour was a complete success thanks to the hard work of Swady Primus from  "Rastarz Promotionz" who has proven that hard work does pay off.
So, what's this I AM SOCA event…?
Created by a group of New Yorkers of Trinidadian descent calling themselves "Rastarz Promotionz," I AM SOCA is a 100% Soca event hosted by top international Soca djs and artistes from around the world.
Swady Primus from "Rastarz Promotionz" is the backbone of this event, and his focus is on making sure it's a global success as he continues to enhance the SOCA culture.
The I AM SOCA vibes has touched down in venues in Miami, Boston, Washington, Barbados, Trinidad, New York, Grenada, Bermuda and beyond.
It made its first appearance in Canada on Saturday May 19 and Sunday May 20 (Victoria Long weekend) in Montreal and Toronto.
The Montreal I AM SOCA event was a Camo edition held at Catalogna Lounge, and featured Giselle the Wassi one, Eternal Vibes, Riggo Suave, Sweet Chunes, Nemesis Soundz and Production Sounds.
It had a capacity crowd and left many non-ticket holders stranded outside.
The Toronto I AM SOCA event, a Glow edition, was held at the Boss Club and was another overwhelming success.
It featured a line-up of exciting djs, International Stephen, Riggo Suave, Close Connection and others.
LOG ON TO WWW.IAMSOCAEVENT.COM AND FOLLOW THE MOVEMENT.
Island Facts:
May 30th 1845 – commemorates the landing of a ship carrying 217 of the first indentured laborers from India in Port-Of-Spain on this day, after a 100-day crossing around the Cape and across the Indian Ocean and the South Atlantic.