One time rivals Bounty Killa and Beenie Man collaborate with Legendary
Growing up in Trinidad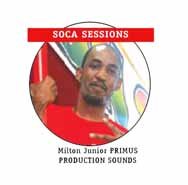 and being around my dad's (Production Sounds) music business, I can tell you first-hand that reggae/dancehall music helped the nation's youth in their search for  identity and self  development.
I grew up listening to artists like Buju Banton, Tiger, Daddy Lizard, Super Cat, Bounty Killa, Beenie Man, Ninja Man and many others whose songs and music delivered pure enjoyment.
Dancehall music served as a platform for those artists to express their freedom of speech and at the same time entertained and brought joy to listeners around the world as they commanded fans to do the dances and recite the phrases.
That's the way it was as far back as my primary school days in the 90s, Those artists were seen as idols and role models.
As the years went by and we grew older, we saw the change in Dancehall music. Dancehall was not just about music, it's now attached to a culture and how it impacting on  fashion and  attitude (Dancehall outfits leave little of women's bodies to the imagination).
Also it is this mindset that is now affecting the behaviour of so many young people in school…. a culture of gangsters, hottie girls, nuff girls, nuff skin and body parts exposed, nuff slackness,  wining and grinding, bling and more bling….
Needless to many in society have become uncomfortable and in the search for someone to blame  several  notorious "men of the moment" – Alkaline, Vybz Kartel, Tommy Lee and Gage are isolated for pushing the boundaries too far.
They and others  are being blamed for causing Dancehall to be put under a microscope because of the controversial lyrics and glorification of the "Gothic Dancehall" style, which includes (skin) bleaching and promoting dark and Satanist-inspired subject matters.
All of it have not been sitting too well with some Dancehall fans and some of the major players in the industry, including the legendary performer  Rodney Basil Price aka Bounty Killa who has been condemning the direction  the music is being taken.
Bounty Killa, is one of the most  well-known Dancehall stars of the '90s. He  recently collaborated with Beenie Man to release their first single, titled "Legendary." Both men have been rivals since the early 1990s, and although they have claimed that they're friends on many occasions, they've never recorded a single together until now.
Some say the reason for this collaboration is the current state of the Dancehall industry  has pushed these one-time rivals to  set aside their differences and focus on healing Dancehall music.
Island Facts:
– Dec. 15, 1997 – UNESCO enlists Morne Trois Pitons National Park in St Lucia as a World Heritage
site. The park is the first and only enlisted natural site in the Eastern Caribbean.
Be free to send your feedback on any of my articles to Productionsounds@gmail.com or Twitter: @Productionjr
Production Sounds Chart
1. Ola Ola – Olatunji
2. I'm Phenomenal – Benjai
3. Pop Bottles – Machel Montano
4. Ah Feeling – Lead Pipe & Saddis
5. Vagabond – Ricardo Drue
6. Benup – Porgie and Murda
7. Happy – Farmer Nappy
8. Respect the Elders – Crazy
9. Rum Meeting – Fireman Hooper
10. Carnival Addiction – Lead Pipe