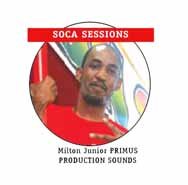 We are one month away from summer, the season of warm… hot weather, outings, Caribbean festivals and parties in our community.
We all know that it's almost impossible to have a summer in Montreal without hearing Soca music in any community event. So it's time to get familiar with all the Soca hits, and if you're looking for a Soca mix to jam to in your car, home or iPod with all the 2017 Soca hits this summer, you're definitely reading the right article, as my annual Soca mix titled "Flight Soca Sessions Vol 4" is finally completed, packaged and available to the public.
Flight Soca Sessions came about because of the high demand and need for a Soca mix from my fans, listeners and supporters.
Finding an up-to-date Soca mix was a task for many, especially if you are looking for a mix by a Montreal DJ. The year 2014 was when I introduced this concept to Montreal.
Flight Soca Sessions is the name of this project, and the theme changes every year with a different host.
"Soca Sessions" being the name of my radio show on CKUT 90.3fm and "Flight" being the fact that this Cd's purpose is to take you on a musical journey to the Caribbean.
I initially released this Soca mix (once a year) right after Trinidad Carnival, but in 2016 I decided to make two mixes per year, one at the beginning of the year and the other at the end. Hence, the reason why volume 4 will be the Soca mix to take you through the summer with all the new Soca hits.
This Flight Soca Sessions is hosted by "Santana" with the theme "Santana coming to Montreal." He is a beloved West Indian puppet character created by Lexo TV.
The pre-release of Volume 4 will be at my annual event "Army Fete 3," the official release on Saturday, June 3, and will be available at these following businesses in Montreal and Ottawa.
Caribbean Curry House 514-733-0828
Tropical Paradise Restaurant, Decarie Blvd. 514-481-2614
Restaurant Jah B Caribbean (LaSalle) 514-367-5242
Salon Rayshell (NDG) 514-481-2635
Island Flava Restaurant (Ottawa) 613-321-4198
Limited numbers available, and please note that these Cds are totally free.
This is my way of giving back to the community and my supporters.
Flight Soca Sessions Vol 4 Cds consists of 70 Soca tracks all of which are considered 2017 summer heavy-hitters. Head to one of the locations or contact me directly Productionsounds@gmail.com and (514) 862-6321 via Text / WhatsApp to get your copy! Again thank you all for the support.
Island Facts
May 30,1845 – commemorates the landing of a ship carrying 217 of the first indentured labourers from India in Port-of-Spain on this day, after a 100-day crossing around the Cape and across the Indian Ocean and the South Atlantic.
– June 2, 1999 – Junior Braithwaite (49), one of the original Wailers, was shot and killed in Kingston by unidentified gunman on this day.
Production Sounds Chart
1 Brave – Dynamite
2 Addictive – Popcaan
3 Single – Orlando Octave
4 Banga – Aidonia
5 Full Extreme – Ultimate Rejects
6 Fast Wine – Machel Montano
7 Whole Hog – Flanka
8 Big Bad Soca – Bunji Garlin
9 Big Girl – Patrice Roberts
10 PotHole – Luta