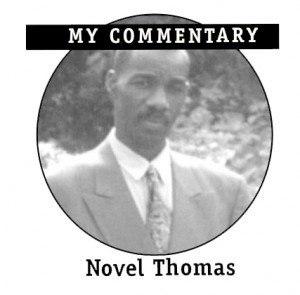 In the wake of the November 5 municipal elections, discussions and conversations about the absence of those oft-spoken-about proverbial "visible minorities." A handful of them were visible on posters around town in that recurring, almost futile attempt, to make inroads into the houses of political power, in this instance at the municipal level.
But as always, while a few "visible minorities" were elected, none of them are of African origin. Plainly stated, none of them are Black. All that to say, the diversity many of us Black people were hoping to see this election did not materialize this latest election.
And in some of the discussions I heard on radio, television, etc., it's more of the same-old-same-old talk as to why, to use that resonating phrase, "no Blacks were elected."
And it's not because of a lack of experience. I read the profiles of a few Black candidates on campaign posters this past election, or in various media interviews and in my view they possess requisite qualities that merit consideration for political office. Problem is their blackness always seems to get in the way of voter likeness and preference. In other words people vote for people they know and are familiar with.
Bear in mind that [cultural] "diversity" was one of the issues discussed during the campaign – in fact diversity in its various definitions has become an operative word in campaign promises at every political level in recent years. That's in keeping with the reality and face of today's Canada.
For example, a look at the House of Commons, to some extent, reflects Prime Minister Justin Trudeau's "This is 2017" quip regarding inclusion and cultural representation in politics at the federal level – the fifty-fifty percentage gender parity of his Cabinet makeup, along with a sprinkling of colour diversity. But there's colour-diversity among the 338 members in the House…
Quebec's National Assembly has many women, but in Montreal politics, all the talk of diversity notwithstanding, cultural diversity at City Hall remains at a premium. Montreal City Hall still is engaging in tokenism.
Actually, the onus is partly on the voters who would rather stick with the traditional and cultural by "voting for their own." Visible minorities have been voting for invisible majorities forever. Well it's time you vote for us, when the opportunity is presented.
Montreal's "visible minority" population is a little over 30 percent, but the incoming city council will remain exactly where it was on November 4, 94% white, with a that handful of colour thrown in for protection from the glare… That's unacceptable.
"[…] Parties need to do a much better job of reaching out to visible minority candidates and visible minorities need to start asking to run for political office as opposed to being approached," according to Chris Erl, a researcher at McGill University who studies diversity in municipal politics.
Ironically, Cathy Wong, one of Team Denis Coderre's handpicked "visible minority" candidates, was elected in the Ville-Marie borough. And according to a resonating post-election quote, "What we are seeing today is that we don't have a municipal council that is representative of the reality of Montreal."
That fact is not lost on the Centre for Research-Action on Race Relations (CRARR), which is regularly called on to assist in issues of social import that impact minority communities. It said in a statement that "It is unlikely Mayor-elect Valerie Plante's executive council will reflect the city it represents, which could be a problem when it comes to offering various services."
But in one of her post-election interviews the mayor said she would be looking for councilors from other parties with whom she could work. But since no Blacks were elected, the matter of diversity in City Hall will continue to be a moot point.
Meanwhile, as Wong stated in the wake of her victory, "People from diverse or different backgrounds have to be involved in those discussions and have to be present when we debate and adopt new policies."
Over 30 percent of Montrealers are visible minorities; 21 percent of the candidates who ran in the municipal elections were visible minorities.
"Parties need to do a much better job of reaching out to visible minority candidates and visible minorities need to start asking to run for political office as opposed to being approached," according to Chris Erl.
So it's the post-election period and the talk continues to be about the outcome, especially the lack of any significant (I still find the term truly galling) visible minority presence.
Nevertheless, in her election night victory speech, overwhelmed by the momentous and significant event and occasion so soon in her political life, Mayor-elect Valérie Plante said she feels "[…] we're going to accomplish big things together…"
Don't know if by that she means the lack of true, visible diversity in the city council she will be lording over. She might want to consider it now that she has settled into the mayoral seat.
And one of the handful of visible minorities in city council, Franz Benjamin, the first Haitian – or Black – president of the municipal council the duration of the Coderre administration (he was re-elected to council; no English-speaking Black person has ever won a council seat in Montreal), said he "hopes the new administration will keep its
promise" – on the issue of cultural diversity in and around City Hall.
So the political campaign is over, time to deliver [on promises].
According to perennial Snowdon (city council) winner Marvin Rotrand, in the 2013 election people from visible minority communities expressed interest in running for council seats, but "most of those candidates had no chance of winning.
Meanwhile, with talk of him blowing out the light on his long political career Rotrand has been voicing the need for more diversity in City Hall.
In an interview he stated that the "Last time, Frantz Benjamin and I used the phrase 'we wanted minorities presented in winnable districts' the subject made the parties nervous…"
Maybe it's symptomatic of that inherent… institutionalized, systemic racism, a reality that many continue to deny. It doesn't matter that all those Black people who stood for political office last November 5 and prior, came with the requisite qualifications, no less than the average white political aspirant.
Who knows, maybe if Tiffany Callender and others who sported the Équipe Denis Coderre and other party banners had hooked up with Projet Montreal and Mayor Valerie Plante, their political fortunes and dreams might be looking better today.
I know, Balarama Holness, who ran for borough mayor in Montreal North under the Projet Montréal banner lost, but… 2021 is not faraway.
Visible minorities with political ambition, we must keep pushing against those political barriers [of exclusion] until they collapse. Then the talking will stop.