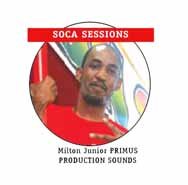 The 2017 Carnival season in Trinidad and Tobago has come and gone and life is returning to normal for many. But for Soca artistes and international Djs as myself, we know that the task of spreading the love of carnival and the music has only just begun.
And because Soca lovers are expecting real time information about 2017 Trinidad carnival every time they open the Montreal Community Contact newspaper, I've put together some results for the various competitions and events that colored the carnival season in Trinidad.    International Soca Monarch: 1.Aaron "Voice" St. Louis – "Far From Finished" 2. Orlando Octave – "Single" 3. Devon Matthews – "D Journey" 4. Neil "Iwer" George
Congratulation to the 24-year-old San Juan-born singer "Voice" for winning the prestigious competitions with his mega-hit, "Far From Finished" Trinidad and Tobago's youngest Soca Monarch winner who captured last year's title at the age of 23 walked away with the $500,000 first prize.
5. In the highly contested Road March competition, Mx Prime & Ultimate Rejects made history in this competition with their epic song Full Extreme, which was the most played Road March song ever. In 2013, Super Blue's "Fantastic Friday" had 511 plays and in 2010 JW & Blaze "Palance" had 417 plays.
I know Machel Montano didn't expect this as he was pushing  "Beat It" as the Road March song but his other song Your Time Now did a lot better than expected.
Results: Full Extreme "Mx Prime & Ultimate Rejects" – 556 plays 2. Your Time Now "Machel Montano" – 72 plays 3. Beat It "Machel Montano" – 18 plays.
In the Panorama Large Band competition, Trinidad All Stars Steel Orchestra copped their tenth Panorama title at the finals Saturday, February 25, when they dethroned Desperadoes by 3 points to become the 2017 Panorama champions.
Results:
1. Massy Trinidad All Stars – "Full Extreme" – 286
2. Desperadoes – "Good Morning" – 283
3. Bp TT Renegades – "Good Morning" – 280
4. Republic Bank Exodus – "Good Morning" – 277*
5. CAL Invaders – "Full Extreme" – 277.
Pan Elders out of South Trinidad won the Medium bands competition and La Horquetta Pan Groove won the Small Bands category.
Calypso Monarch
History was made at the 2017 Dimanche Gras competition at the Queen's Park Savannah, Port of Spain, on Sunday, February 26 as Dr. Hollis "Chalkdust" Liverpool captured his ninth Calypso Monarch title with his performance of "Learn From Arithmetic" as he earned 439 points and the first prize of $700,000.
Results:
1st. Hollis "Chalkdust" Liverpool – "Learn From Arithmetic" – 439
2nd. Karene Asche – "Caught in the Whirlwind" – 423-
3rd. Heather Mac Intosh – "Games" – 417
4th. Terri Lyons – "The Phrase" – 415
Production Sounds Chart
1 Full Extreme – Ultimate Rejects
2 Beat It – Machel Montano
3 Single – Orlando Octave
4 Far From Finished – Voice
5 Big Girl – Patrice Roberts
6 Fast Wine – Machel Montano
7 Bathe – Iwer
8 Workout – Kes
9 Budget – Ravi
10 Kings & Queens – Sekon Sta
Be free to send your feedback on any of my articles to Productionsounds@gmail.com or Instagram: @Productionjr
Island Facts:
– Mar 2nd 1972 – Michael Manley becomes the fourth Prime Minister of Jamaica. Mar 9th 1974 – Jamaican dancehall artist Don Yute, aka The Golden Child, was born Jason Andrew Williams.