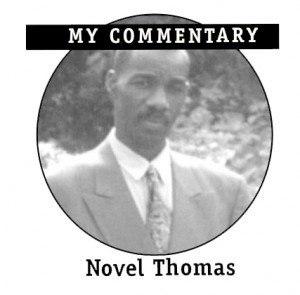 Don't dismiss her; she's speaking of her experiences…
Matters of race and racism, their manifestations and ramifications are always so hard to talk about publicly, and are often dismissed… But when coming from the horse's mouth, the afflicted, it is time to listen, not simply dismiss it with a yawn…
So when, about a week ago, 21-year-old Françoise Abanda said some things, which, I'm sure, many people thought she should've just kept to herself, tongues started wagging and lips flapping…
It was one of the lead sports story that day.
Abanda was apparently responding to a Twitter user who questioned the "discrepancy in attention afforded other young tennis players…" especially the likes of another homegirl, Westmounter Eugenie Bouchard, who has enjoyed much [sports] media attention over the years.
A couple years ago Eugenie was on an upward trajectory in the tennis world.
Abanda's unfiltered response to that Twitter query, which was posted on her account, was "I will never get the same treatment because I am Black. It's the truth!"
The [sports] media voices wanted to know why Abanda was speaking what she was thinking and experiencing…
Since watching both young women on the tennis court, it was my belief that Ms Abanda was getting lost in Ms Bouchard's haze; she quickly became a sports media darling as she moved up the tennis rankings – in spite of her inconsistence on the court. Her counterpart was relegated to afterthought status.
And as I perceived it, other young up-and-coming tennis talents living outside Quebec were receiving more sports media attention than the local Black girl.
I'm not the biggest tennis fan in the world, but whenever Eugenie was on the court, especially during that period when she was on an upward trajectory on the international scene, I kept my fingers crossed, hoping she would attain the pinnacle of the tennis world. But at the same time, I wanted to see/know how the Montreal, QC, Canadian-born Françoise Abanda was doing.
Many of us have been around long enough to understand how institutional practices in their various nuanced, subtle, corrosive forms, like those referenced by Françoise, are manifested. She should know; she's the one living the experiences.
[Think of the Williams sisters and their experiences. Read Sister Act VI: Venus and Serena Williams at Indian Wells: "Sincere Fictions" and White Racism. Or Black and White: The Way I See It…]
Françoise emphasized that her Twitter comments about discrimination weren't aimed at her counterpart Eugenie, both "have a good relationship, at times practicing together," but reiterated that she doesn't get the same recognition as Bouchard because she is Black. And the problem is "a lot deeper" than simply comparing players…"
"I don't have a problem with her, and I respect all the things she's achieved and I don't want to bash Bouchard, she played amazing in Fed Cup, we got along really well," Abanda said.
She's currently the highest-ranked women's tennis player in Canada at No. 128, while Bouchard, a former No. 5… has seen a steep decline in her career since reaching the Wimbledon final in 2014, and is currently ranked 169th. [But] she's remained in the public eye partly because of her social media presence, endorsements and modeling sessions…"
Notwithstanding her one-day mini Twitter tempest, Abanda stands by her comments.
She said she's witnessed "hundreds and hundreds" of discriminatory acts throughout her career, and recalled, as an example, an opponent at an under-12 tournament who told her to "go back to your country."
She doesn't say which country… but one can only imagine.
Abanda also mentioned being excluded from a Tennis Canada video celebrating Canada Day last year that featured the country's top players.
Hmmm…
"I don't know the reason why I was excluded to this day… I found it weird…as all the other Canadian players were there. It was unfair to exclude me."
Notwithstanding Tennis Canada's explanation that "…Françoise was excluded because the player had offered video that was of poor quality…" blah blah… all of the nation's talents – without exception and Mea culpa – should've been (visibly) represented.
In standing her ground, Françoise Abanda told Canadian Press, "I think the problem is a racial problem, and I think that there is some inferiority and superiority going on, and I think that speaking from my personal experience, I have lived with racism in tennis growing up and playing in Quebec, and I'm just speaking the truth and what I've experienced."
The problem is "a lot deeper" than simply comparing the two players, Abanda said.
"I will never get the same treatment because I am Black… It's the truth!"
According to one online article, […] despite Bouchard's "dramatic fall" she remains a media darling in part for her regular social media presence, her lucrative endorsement deals and her modelling work…"
You see, Françoise, there's something about skin privileges in this social construct of race and racism, where some people have all the luck – if they want it. But you seem to have all that figured out.
That said, whatever your life pursuits might be Françoise, just keep talking truth to social realities, consequences be damned. Everyday of your Black existence will be predicated on race, but never allow that to hamper you.
Given our socially imposed, so-called "visible minority" status, Françoise, our anecdotes, experiences and lives' stories will invariably be the same.
"My whole point is that I really want to promote equality, I want players to be equal in Canada, I want everybody to be treated the same…beyond tennis, we're all human and we should all treat each other with respect, first of all…"
"I have lived with racism in tennis growing up and playing in Quebec, and I'm just speaking the truth and what I've experienced," you stated. We then must all continue to do what you did, call it what it is, when it happens, Françoise.