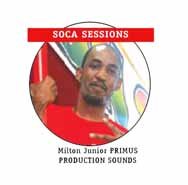 Yes! Summer is finally here.
Time to gear up for Montreal's Carifiesta and the longest running after-event, SocaRama.
This year, the event is back bigger and better for its 7th year on Saturday, July 7, and will feature our Kooler Fete Edition.
Yes, bring your own cooler filled with your favorite drinks, party   with two artistes and a few deejays in a nice and spacious venue.
So where does this all go down: Think SocaRama.
And we are proud to let all partygoers know about our venue: CDL SPORTIF COTE DE LIESSE" 8305 Chemin De La Cote De Liesse, Qc H4T 1G5 (GOOGLE IT). It's one of    best things about the event. Conveniently located, very spacious, secure and with free parking.  Just amazing.
Another highlight is have to of the Caribbean's most popular Soca performers to nice up the party.   Grenada's Tallpree (the man known as the Jab King) and T&T's Dev (King of J'ouvert).
Tallpree who real name is Wilt Cambridge burst on the Soca/Jabjab scene in the 1990s and established himself king and a favorite of "old and young women" alike, especially with his mega 1999 hit "Old Woman Alone."
Devon Harris or Dev who is coming straight from South Trinidad will be tantalizing Montreal party-goers for the first or the first time in Montreal with his favorite: "Ent yuh know that it is time for jam, jam."
His hit "Is Jam" Is one of the biggest Jouvert songs coming out of Trinidad for 2018
His other hits are "Drinking Pardna" and "King Ah Jouvert"
What else can make Soca Rama 7 package the best choice for Carifiesta 2018?
Well tickets are only $40 and they can had at
www.ticketgateway.com or and West Indian outlets or call (514)
240-3136 / (514) 862-6321.
Island Facts:
  July 18th 1995 -The Soufriere Hills volcano erupts and destroying
the capital and forcing most of the population to flee.
  July 22nd 2001 – A statue of World Famous calypsonian the Mighty
Sparrow was unveiled at St Ann's Roundabout in Port-of-Spain.
Be free to send your feedback on any of my articles to
Productionsounds@gmail.com or Instagram : @Productionjr