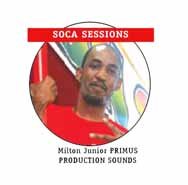 When it comes to the Montreal Soca scene,  I will be the first to admit  that talking about our problems has become our greatest addiction.
This is a habit we need to break by shedding light on the joys and  progressions we see in the Soca market.
Do you remember the recent  article I wrote pertaining the premier of hit Caribbean movie  "BAZODEE"  in Montreal? It was schedule to be screened at Cinema  Cineplex (AMC) Forum  on October 21st to 25th with only five days  notice but due to the overwhelming support and success it was extended  to November 3rd.
My annual end of season event "Touch Of Red" fourth edition was held on November 12 and featured Problem Child out of St Vincent & the Grenadines.
This was by far my most successful because the vibes was constant and filled to capacity with over 300 partygoers.  The support and attendance that both the Bazodee movie and Touch Of Red got, shows that Montreal still has a lot of Soca lovers.
Now the big question is: could it be that Montrealers are just selective in what they support?
On behalf of Production Sounds team I would like to thank: Caribbean Curry House, Chef De La Maison, Photographer (ms.loisphotography), Videographer (Wicked Jab Productions), Djs (Energy Squad / Dj Akin), Problem Child, Lance, My Staff and most of all the supporters for making Touch Of Red event memorable.
To view the official video of this event check out my youtube page "Junior Primus".    .
Just a reminder:  That my annual Soca Mix cd is available for free at  the following outlets : Caribbean Curry House, Chef De La Maison, Jah B  Restaurant, Salon Rayshell, Tropical Paradise and Island Flava  (Ottawa). Hurry as they are going fast.
Be free to send your feedback on any of my  articles to Productionsounds@gmail.com or Instagram : @Productionjr
Production Sounds Chart  
1. Outside – Voice
2. 2VIP – Kerwin Du Bois
3. Don't Mind – Uncle Ellis
4. Lip Service – Machel Montano
5. Ova Dweet – Popcaan
6. Don't Come Back – Tarrus Riley
7. Waist Killer – Destra
8. Technically – Farmer Nappy ft Destra
9 How we like it  – Kes
10 . Good Morning – Peter Ram