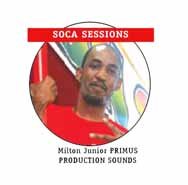 Mx Prime and Ultimate Rejects takes it to the Full Extreme
Two of the biggest days in the Caribbean calendar is upon us.
The  Trinidad and Tobago carnival fall this year on Monday and Tuesday February 27 & 28th and comes with its usual display of costumes,  fetes, and non-stop music.
As usual, people are excited to know what's going on in Trinidad & Tobago  carnival season so far.  Is there any bacchanal?  What's the hottest  Soca tune? Who is dominating on the  soca scene? Who won the Chutney Soca Monarch?  And will Machel Montano  lose road march this year?
Let me give you a quick update of the most talked topics for 2017 Carnival.  This year the top prize for the Chutney Soca Monarch has been reduce to $500,000 while a new category called The World's Ultimate Chutney Challenge has  been added with 10 artistes accepting the challenge of competing for  the title of the  best ever songs in the history of Chutney music.
This year the finals took place on Saturday  February 11 and Omardath Maraj & Ravi B Karma tied for first place as Chutney Soca Monarch 2017 with Ki Persad coming third.   The winners will split $650,000 and the third prize winner gets $75,000.
In the World's Ultimate Chutney Challenge,  Chris Garcia walked away with the $100,000 with his 1996 hit Chutney  Bacchanal with Rikki Jai coming second and Adesh Samaroo third.
Fantastic Friday (Friday 24th February) will take over the country as 15  finalists for the International Soca Monarch Crown. They are: Asten Isaac * Blaxx * Devon Matthews * Farmer Nappy * GBM Nutron  *Iwer George Kernal Roberts  *Linkyfirst * Lyrikal  * Marvay  * Nailah  * Orlando Octave  * Patrice Roberts  * Peter Ram  * Ravi B  * Ricardo Drue  * Sekon Sta  * Shal Marshall  * Teddyson John  * Terri Lyons  * Tizzy  and defending champion Voice.
This year, many artists Uncle Ellis, Salty with a big tune "Free Up Yuhself", Destra,  Olatunji, Flipo who  were expected to be in the finals will not be there either because they make it past the judges or didn't enter the competition.
One The Ultimate Rejects featuring MX Prime who has been dominating  the soca scene since it was first released, with the group being  featured in almost every fete since the start of the season, did not enter the but they might be on as guest artists.
They issued  a public statement that they will not be taking part in the  International Soca Monarch because they do not enter competitions.
Also for highly coveted Road March prize,  Mx Prime & Ultimate Rejects with their hit song:  "Full Extreme" is considered Machel Montano's main rival and fans  nation wide is pleading for Mx Prime & Ultimate Rejects to register  for Road March as  registration ends on Carnival Friday, February 24  at 3 pm.
Machel Montano's song is title Beat It", a pan inflected road  song that is firmly in the race as we approach Carnival Monday and  Tuesday.
Caribbean Highlights – Feb 7th 1986 – Haitian President-for-Life Jean-Claude Duvalier  flees to France, Henri Namphy becomes leader of Haiti.     – Feb 13th 1990 – 114 members of the radical Muslim group that staged  a failed coup of the nation in Trinidad and Tobago were freed from  jail and from charges including murder and treason when Justice Brooks  ruled that the amnesty granted in negotiations had to be upheld. Their  attorney Ramesh Maharaj would later become the country's attorney  general.
Production Sounds Chart  
1 Full Extreme – Ultimate Rejects
2 Beat It – Machel Montano
3 Single – Orlando Octave
4 Far From Finished – Voice
5 Caylpso – GBM Nutron
6 Fast Wine – Machel Montano
7 Watch Thing – Skinny Fabulous
8  WorkOut – Kes
9 Budget – Ravi
10 Kings & Queens – Sekon Sta
Be free to send your feedback on any of my articles to  Productionsounds@gmail.com or Instagram : @Productionjr