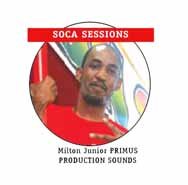 Do you recall the article in the Community Contact a couple issues ago stating that there will be no "Trini Day" in the park this year?
Did you hear about the unfortunate death of Devon Matthews, who placed third in this year's International Soca Monarch with his hit song "D' Journey (Make It). Well it's never too late to start over, never too  late to pay respects to someone's contribution to our culture.     Montreal Trini Day is a display of Trinidad's culture through music,  singing and dancing  and considered one of the biggest outdoor  Caribbean events in our city.
Organized by (FOTTQ) Federation of  Organizations of Trinidad and Tobago for decades, the annual Trini Day  in the Park is something thousand of Soca lovers has been anticipating  and waiting for.
Due to work being carried out at the venue on Parc  Jean Drapeau the (FOTTQ) has decided to withdrawn from doing it this  year but the news of no Trini Day did not settle with many and went  viral on social media leaving a lot of Soca lovers in disbelief.
This  announcement is the reason why a small group of people came together  and decided to pick up the torch and make Trini Day happen. Trini Day  Family Fun and Food Festival will be held on Saturday August 12, at  the Soccerplex parking  lot in Lachine by a new organization.
Come out in  your numbers and support the thing as there will be lots of food and  entertainment.
Island Facts : July 18th 1995 -The Soufriere Hills volcano erupts and destroying the  capital and forcing most of the population to flee.       July 22nd 2001 – A statue of World Famous Calypsonian the Mighty  Sparrow was unveiled at the St Ann's Roundabout in Port-of-Spain.
Be free to send your feedback on any of my articles to  Productionsounds@gmail.com or Instagram – @PRODUCTIONJR
Production Sounds Chart  
1 Split In Di Middle – Freezy
2 Brave – Dynamite
3 Single – Orlando Octave
4 Banga – Aidonia
5 Full Extreme – Ultimate Rejects
6 Fast Wine – Machel Montano
7 Baila Mami – Nailah Blackman
8 She Bad – Turner
9 Big Girl – Patrice Roberts
10 Like Nike – Kerwin du bois \ Lavaman