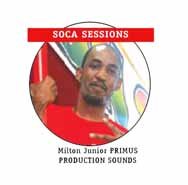 Montreal Carifiesta is over. Soca Rama 7 was full ah vibes. Now all eyes are on Toronto Caribana.
This year will be my first time Djing on the road for the big Toronto Costume band "Carnival Nationz."
Before continuing I would like to remind you that my main goal in our community is to promote our culture and support each other.
I try to do as much as possible by doing parties, supporting small business and giving back when I can because I want to see us all succeed one way or another.
Anyone who really knows me, know that I never have or had ill intentions. If you look at the bigger picture, see my past, you will see and know I love our community and I love our culture.
The longest lasting Carifiesta event "Soca Rama" was full ah vibes this year. The seventh edition of Soca Rama was a Cooler event and featured Tallpree from Grenada, Dev "King Of Jouvert" from Trinidad and a last minute surprise guest from Trinidad Mical Teja.
I, along with Montreal Challengers would like to take this moment to thank everyone that attended this year and to remind to look out for next year, as it will be bigger and better.
This year's theme for Carnival Nationz is L.O.V.E. more than just a word; it is the deep-seated ethos that drives us as beings that inhabit this planet.
No longer will it be hidden in the shadows; there's far too much negativity, corruption, violence, destruction, prejudice, oppression and abuse in the world today.
2018 is the year for L.O.V.E.
Founded in 2005, this band is fueled by the desire to be North America's #1 masquerade band, Carnival Nationz. They made history by becoming the first mas band ever to cop all 5 titles at the Toronto Carnival, establishing them as a true carnival dynasty.
For more information on Costumes email info@carnival-nationz.com or check the website http://www.carnival-nationz.com as most sections are already sold out.
Island Facts:
– July 22, 1962 – An Air France Boeing 707 jet crashes in Guadeloupe killing 113.
– July 29, 1952 – Reggae vocalist and founding member of Black Uhuru, Euvin Spencer, better known as Don Carlos, was born on this day in the Waterhouse district of Kingston.
Be free to send your feedback on any of my articles to Productionsounds@gmail.com or Instagram @ProductionJr