Tennylin "Tenny" Thompson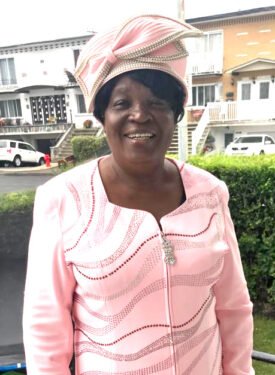 On Wednesday, September 28, 2022, God quietly called our loving mother Tennylin "Tenny", Thompson to a place of rest from this earthly side. She was 71.
Tenny spent her final moments surrounded by her children and loved ones.
Tenny was born in Spanish Town, Jamaica to the late Vincent Thompson and Alvira Edwards. She relocated to Canada at the tender age of 20 to join her sister.
Tenny was blessed with a large and loving family. She is survived by her five children: Delroy, Celina, Denise, Chantal and Dwayne; three siblings Elizabeth, Junior and Leslie, 14 grandchildren, one great grandson and a host of nieces and nephews, cousins and in-laws.
Tenny was a vibrant member of the Montreal West Church of God of Prophecy where she faithfully served in the prayer and evangelism ministry. She was a prayer warrior at heart, living a God-fearing, faith filled life.
She loved the Lord and possessed a hunger and passion for God that was uplifting and inspiring. She had the kindest heart, warmest smile and was always willing to give. She was selfless until the very end.
The funeral for Tenny will be held on Saturday, October 15th at the Montreal West Church of God of Prophecy (5255 de Sorel, H4P 1G8). Service begins at 11:00 am.
The viewing will be held at Urgel Bougie Funeral home, 1275 Dollard Ave, Lasalle, on Thursday, October 13th from 6:00 to 9:00 pm and Friday, October 14th from 7:00 to 9:00 pm.
The family of the late Tennylin Thompson acknowledges with profound appreciation the kindness, prayers and other expressions of love during this time of bereavement. May God forever bless and keep each of you in His tender loving care.
In memoriam:
Jean Rogers (St Martin)
It is with heav
y heart that we announce the passing of Jean Rogers (St Martin) Sunrise: October 12, 19XX (her choice) — Sunset: September 6, 2022.
Jean Rogers migrated from the beautiful island of Trinidad to Canada in 1966 and retired from the Bank Of Montreal.
She is survived and will be sorely missed by her son Michael, granddaughters (Shanel and Makayla) brothers (Leno and Kent) sister Lucille and many nieces and nephews. Much love to extended family the Prescotts, the St Martins, and the Lewises and special friend, Freddy.
And special mention of her favourite sports teams, Caribees soccer team and the Montreal Canadiens to which she dedicated much time and support .
Beulah Simmon
June 21, 1930 – Oct. 13, 2019
Beulah Simmons formerly of Trinid
ad and Tobago lived in St Constance, Quebec since 1985.
She was the mother of Ian Pierre
Grandmother of Curtis and Leslie- Ann
Great grandmother of four.
Rest In Peace.
Remembering Coolio
By Felix Nadeau
West Coast rap icon Coolio died at 59 from an apparent cardiac arrest. Born in Pennsylvania on August 1st, 1963, Artis Leon Ivey Jr. would obtain worldwide fame as a hea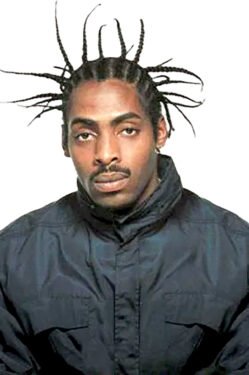 vyweight of Los Angeles rap.
A powerhouse in the mid-90s, Coolio's discography is a strong one. His debut effort "It Takes a Thief " in 1994 would propel him to critical and commercial success. The album's third single, "Fantastic Voyage" was a smash, hitting the #3 spot on the Hot 100 armed with a video that was regularly played, it was the arrival of Coolio.
His presence in Hip-Hop added to California's dominant streak at the time, Snoop Dogg, Tupac, Dr. Dre, Ice Cube, Warren G, DJ Quick, Digital Underground, E-40, etc. All figures of West Coast rap which steamrolled the music business in a way that it hadn't been since the disco craze of the 70s for example Bee Gees, Earth Wind & Fire, Donna Summer.
The year 1994 would prove to be the tip of the iceberg for Coolio. The following year saw him become the biggest rapper of the year in a red-hot streak of hits. "Gangsta's Paradise" was a phenomenon. Both the album and single of the same name went #1.
The LP itself went on to sell 2 million copies in the US alone while receiving positive reviews from publications. The single on the other hand, went triple platinum and became the biggest hit of the year #1 year-end chart billboard, has it ranked as the 13th biggest song of the 90s.
Some songs simply remain relevant, "The Twist", "How Deep is Your Love", "Like a Virgin", and "Single Ladies" are all tracks that refuse to fade, Coolio's "Gangsta's Paradise" is a part of that exclusive club.
The album's other singles would all make the top 40, "1,2,3,4 (Sumpin New)" in particular peaked at #5, Coolio's third solo top 10 hit (he featured on Janet Jackson's "Runaway", it peaked at #3).
Coolio's last hurrah came in '97 with his third album "My Soul" which was certified Gold by the RIAA thanks to the lead single "C U When I Get There" the last time a Coolio would enter the top 20 (or top Hot 100 period). The album was well received like his previous records, a staple of consistent quality.
Aside from his music career Coolio would feature as an actor frequently. A look at his lengthy IMDb resume is proof of his dedication to being an actor. Having been the recipient of three MTV awards, one AMA, and a Grammy is a testament to his commitment to the art of music.
His work in charity in association with Historically Black Colleges & Universities and as an advocate for asthma showed his willingness to serve his world.
The shady business practices of his record label Tommy Boy led Coolio to criticize the music industry much like fellow Tommy Boy signees De La Soul who have been budding heads with founder Tom Silverman for fair compensation for decades.
Leaving with an impressive legacy, Coolio will be remembered.